CAN YOU HAVE TOO MANY BIKES?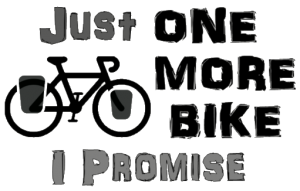 The answer to that question depends on who you ask. I have one friend who, rumor has it, precipitated the end of his marriage with the addition of "just one more".
Right now, I'm at five, with a half-hearted commitment to part with one this summer.
Main Touring Rig – 2013 Salsa Vaya 3
This is the one for the long hauls, though it's a nice bike for shorter treks and carrying stuff around town, too. The steel frame and fork are sturdy and comfortable, if a bit on the heavy side.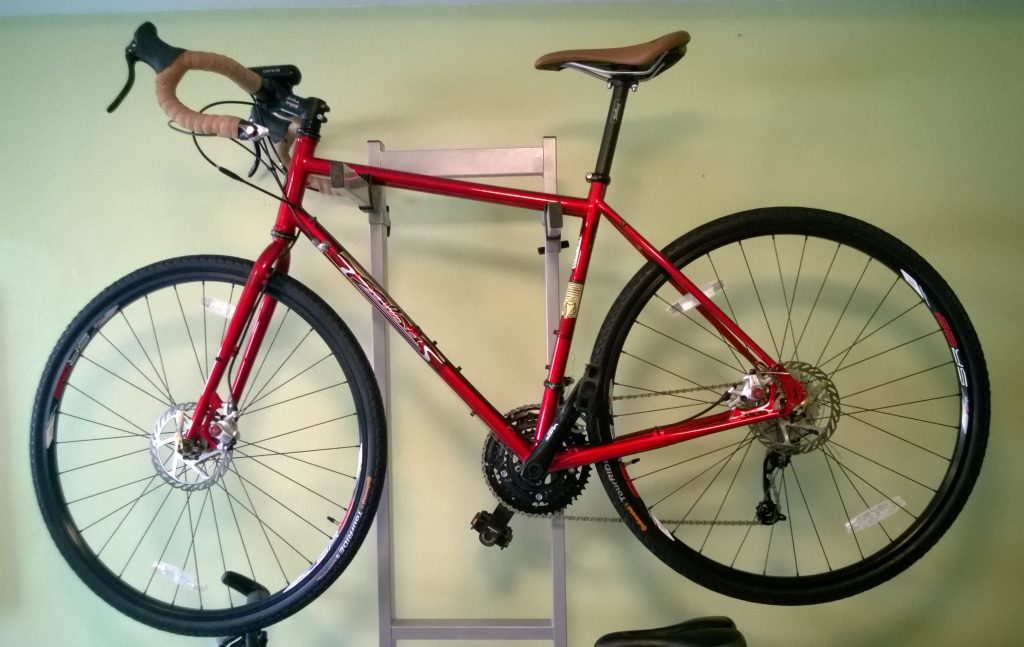 My Vaya is metallic red, which looks particularly nice, but didn't seem too important on a psychological level unit I recalled that the Schwinn BMX that was stolen from my back yard when I was 10 was also shiny and red, at least in my memory. Read more here.
I bought this bike new in 2014 and the mechanicals are unchanged. You can see the specs on the Salsa web site. The drive train is 3×9, with bar end shifters and Shimano Sora/Deore components. The brakes are Avid BB-9 discs.
Of course, a touring bike needs to be accessorized. Here is what I added:
Salsa Down Under Front Rack
Bontrager Backrack Deluxe L
BioLogic PostPump – Seat Post Pump
Bell Comfort Gel Saddle
Shimano PD-T421 SPD/Platform Pedals
Anodized Red Bottle Cages (Generic-eBay)
Cateye Headlamp/Mount
Planet Bike Grateful Red Tail Light with Rack Mount
Abus Coil Cable Lock Booster 670 and Mount
For carrying gear:
Ortlieb/Civia Back Roller Classic Panniers
Ortlieb Front Roller Plus Panniers
Trek Interchange Waterproof Rack Trunk
This has been a great rig, performing flawlessly every time I load it up and hit the road.

Daily rider – custom built road bike on fuji absolute frame
I wasn't planning on getting another bike… How many cyclists have started a conversation that way?
A big bike chain (no pun intended) was going out of business recently, so I stopped in with a friend to check out the clearance sale. HE was starting to build up a touring rig based around a Surly Disc Trucker frame we found on Craigslist. We were looking to see if they had any components HE could use. I thought maybe I'd pick up some tubes or a pair of shoes. Wandering around the store, I noticed a few frames hanging by the window and one of them caught my eye. It was from a Fuji Absolute 1.9 that had apparently been disassembled by the shop for some reason. I didn't know much about it, but it looked like my size, had disc brake mounts and front fork rack braze-ons. It might be able to function as a multipurpose road/touring rig. There was no price on it. I asked, and the guy in charge threw out "$100". A new project had commenced.
When I got it home, I discovered the size was just right and it was an aluminum frame with a steel fork. The absolute is considered a fitness/urban/comfort bike, but the geometry is almost identical to my Vaya. Excellent! Like many cyclists, I had been thinking about what would constitute a perfect daily rider, so the basic decisions were easy: wider drop bars, integrated shifters, compact double crank. and generally lightweight components.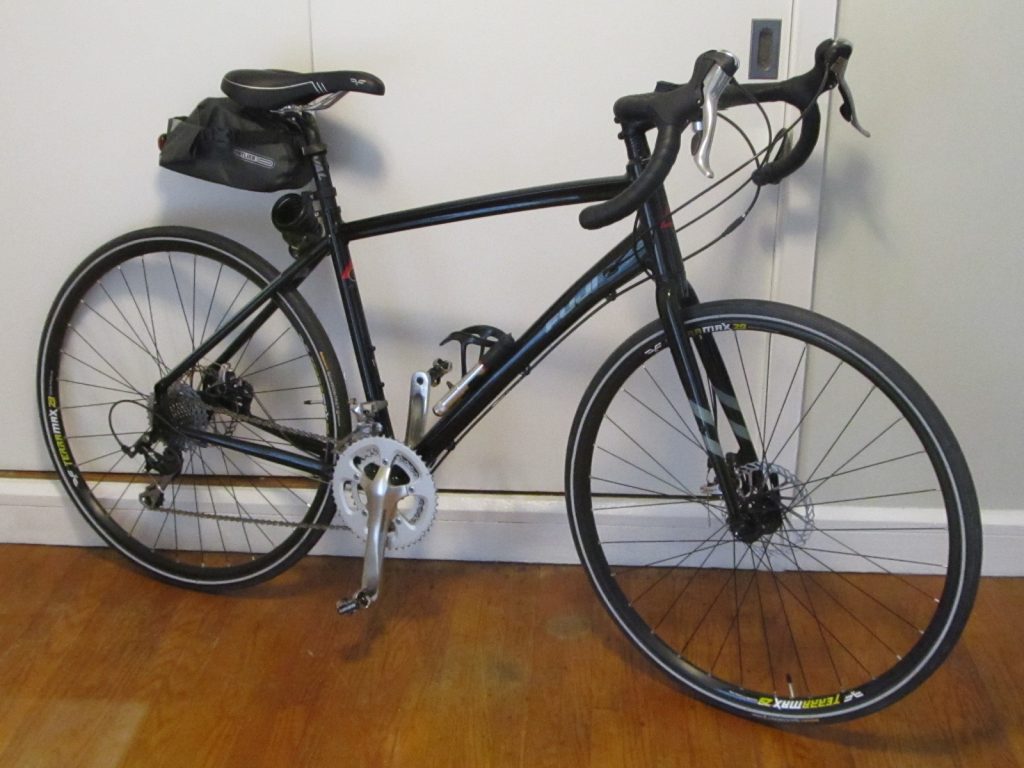 After a lot of research, numerous trips to the closing chain-store and other local shops, and hours scouring eBay and other online suppliers, I pulled everything together. Here are the main components:
Fuji/Oval Aluminum Bars/Stem/Seatpost
Shimano Tiagra 4600 Integrated Shifters/Levers
Shimano FC-R600 Crankset (50/34)
Shimano Tiagra Front Derailleur
Shimano SLX 11-34 Cassette
Shimano 105 GS Rear Derailleur
Forte Terramax 29 Wheelset
Continental Sport Contact 700×28 Tires
TRP Spyre Mechanical Disc Brakes with 160mm rotors
Forte Countour XFC Saddle
Shimano PD-M520 SPD Pedals
Shimano Pro Race Control Bar Tape
Cateye Volt300 Headlight
Zefal Mini Pump
I didn't want to install a rack on this bike, in order to keep it light and sleek, but if you ride distances you need to carry a tube, tools, snacks, and a jacket. After an extensive search, I decided on new offering from Ortlieb that strikes a nice balance between small seat bags and the larger bikepacking bags:
I'm still breaking it in, but so far this bike is great – fast, comfortable, and practical. It comes in at 29 lbs with everything on it (tools, tube, pump, lock, light) except a water bottle.
Folding 26″ Hybrid – dahon matrix
Back in 2011, I decided that I wanted to ride the Erie Canal from end to end – Buffalo to Albany. It's about 450 miles, but not a loop, so the logistics were challenging. The best option was to drive to Albany, take an Amtrak train to Buffalo, and ride back. However, Amtrak only allowed folding bikes on that line. It was time for a new bike.
Folding bikes can be really practical, but most have small wheels that make them unsuitable for rough terrain. The Erie Canal Trail was likely to have some rough patches, as do many other trails I ride, like the D&L/Lehigh Gorge. After a lot of research, I decided the 26″ Dahon Matrix was the best choice. In an uncanny coincidence, one showed up on Craigslist at just the right time. It couldn't have been ridden more than a mile because it had been set up terribly with a clanking headset and bent brake discs.
After a few hours of setup work, it was ready to tour. Here is the original setup:
Aluminum Frame with LockJaw Hinge
3×8 Drivetrain
SRAM X-5 Shifters
Microshift Front Derailleur
SRAM X-7 Rear Derailleur
Suntour NEX Suspension Fork
32H Wheels with WTB Rims and Shimano Hubs
Shimano BR-M415 Mechanical Disc Brakes
NVO ATS Removable Stem
Of course, it needed accessories. First was a rack, and I really like the Trek/Bontrager racks and Interchange Rack trunks. I also really disliked the stock suspension fork and eventually found a rigid replacement:
Trek BackRack L Disc
Bontrager SwitchBlade Carbon Fork
Bontrager Front Fender
Cateye Headlamp/Mount
Planet Bike Grateful Red Tail Light with Rack Mount
Wellgo Quick Release Pedals
Elite Nane Sideload Bottle Cage
This bike has been exceptional, given it's affordable price and the abuse it has taken. It handled the Erie Canal ride without issues, as well as a similar trip in Quebec in 2012. It fits in the trunk of my Mazda3 sedan, which allows me to take it on work travel without worrying about it getting stolen. Because of that, it's been ridden on asphalt, gravel, and sand all over PA and NJ over the 8 years I've had it. Occasionally, it even gets knobbies installed for a spin around the single track trails at Belmont Plateau in Philly's Fairmount Park. It's getting a bit of overdue maintenance right now, like a new chain and wheel bearing service, but I fully expect it to stay in my stable for another decade.
Compact Folder – Bike Friday POCKET Rocket
For a few years, I've been thinking about some trips to places where bike touring is more challenging. Flying with a bike is difficult and expensive, so if if there isn't one available at your destination, there aren't many options. In some places you can get a bike, but it may not be what you want to ride. One trip I've been dreaming about is Cuba. It's would be incredible, but I'm unlikely to find a nice touring bike to rent there.
What's the answer? What if there was a high-quality touring bike that could break down small enough to fit in a standard size suitcase. You could take it anywhere without any extra baggage charges. But what do you do with the suitcase while you are touring? Obviously, you put wheels on it and use it as a trailer. The Scholz family in Eugene, Oregon has spent decades dedicated to designing and buildings bikes that accomplish this goal. They call them Bike Friday. Here is a photo of one of their current models.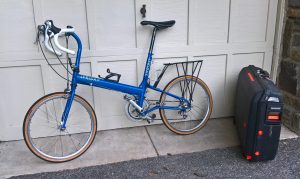 A few years ago, I came across one on Craiglist and couldn't resist. It's a bright blue mid-90's Pocket Rocket with the original suitcase/trailer. It's got drop bars, integrated shifters, and a 2×8 drivetrain with Shimano 600 components. I even modified a small rack to accept my Trek Interchange Rack Trunks.
To date, I've only ridden it around town and on some day rides. It's surprisingly fast and comfortable. I'll post a photo soon.
It's going to Cuba one of these days. Or maybe South America.
PRevious Everyday Bike – Cannondale T800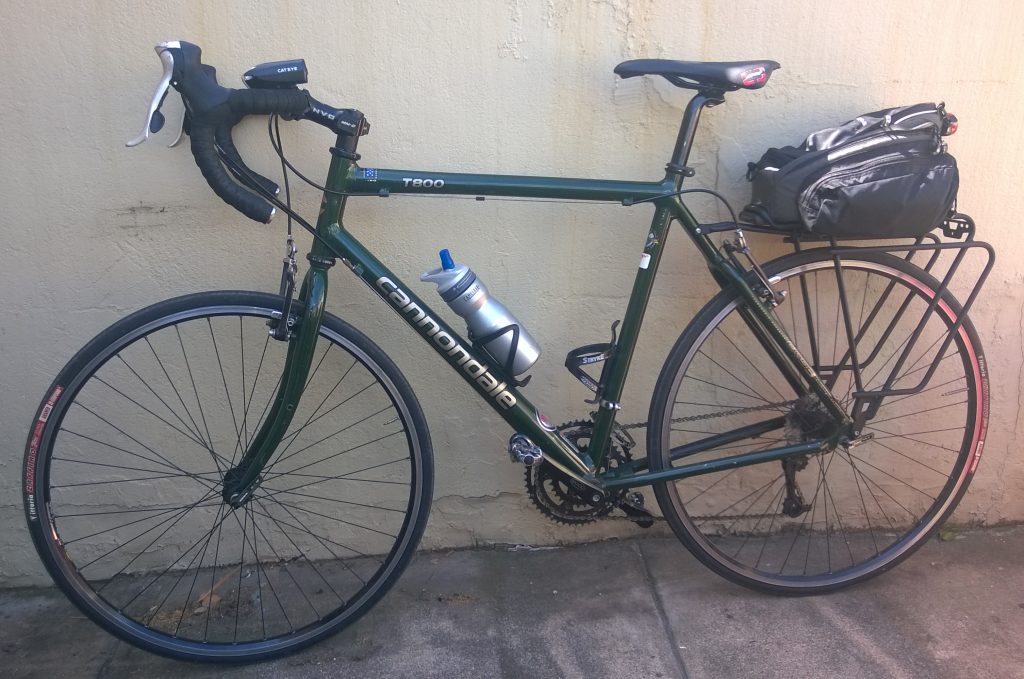 This is number 5 that I'm thinking about letting go. It's a great bike from around 2003…aluminum frame, steel fork, touring geometry, 3×9, Tiagra and Deore components. It's carried me a lot of miles, mostly around Philly and up and down the Schuylkill River Trail. But it's a 59, which is bit large for me, and it seems redundant to the new Fuji build. So it's probably gonna get listed on Craigslist, which is where I found it to begin with. Unless, of course, I decide to keep it.
It can be hard to let go.