Eastern Oregon Day Rides
Sagebrush and Gravel In The High Desert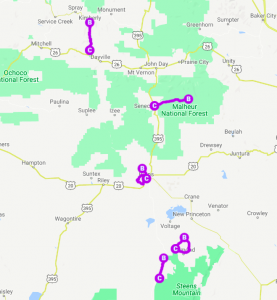 I've visited Oregon many times over the years but, like most people, have stuck to the wet, green 100-mile strip along the Pacific. The only exception was a weekend jaunt to the Bend/Sisters area nearly a decade ago that gave me a taste of the dramatically different landscape that lies in the high desert east of the Cascade Range.
When I returned this year to visit my good friends Steve and Laura in Portland, we agreed it was time to get out and see some of the natural wonders in the east, and to do a lot of it by bike. The distances are long and our time was limited, so we planned a mix of driving and day rides. We opted for two nights each in John Day, Burns, and Frenchglen. I scoured maps and local websites to identify loop or out-and-back rides that would mix great scenery with minimal traffic, moderate distances (25-40 miles), reasonable climbing (2500 feet or less) and decent surfaces (asphalt or well-used gravel). We decided on five rides:
Feel free to jump ahead to a specific ride:
General Considerations
Climate and terrain
Most of Eastern Oregon is desert. Forget about Portland drizzle. It's dry and sparsely populated out here. If you ride, be prepared:
Bring plenty of water.
Bring food – at least some trail mix or energy bars. Stores and restaurants are few and far between.
Pack a repair kit (tube, patch kit, pump/inflator, tire levers, multi-tool, cable ties).
Load gps/phone maps offline, so you can still navigate when there is no cell service. Consider paper maps.
Keep an eye on the weather forecast. In general, the weather is sunny, dry, and mild, but there can be unexpected thunderstorms and brutal heat waves in the summer.
This is mountainous country. Be prepared for some climbing. If you don't want to climb, plan your routes carefully to stay on the plains or follow river and stream beds.
Bike Selection and preparation
If you want to stay away from traffic and get to some remote sights, you'll encounter gravel roads. A carbon road bike with 23mm tires is not the best choice. I rode a BMC AlpenChallenge flat-bar multi-purpose bike with 28mm tires. (Nice loaner – thanks, Steve!) It worked fine on the gravel, but 33mm or 38mm tires would have been preferable. Laura took her brand new Specialized Sequoia with 42mm tires. It was perfect for the gravel, though she thought it was a bit slow on the asphalt. I guess you can't have it all. A typical steel touring rig would be fine.
Some means of carrying supplies is also recommended. I don't like strapping on a backpack and the BMC didn't have a rack, so I installed a top tub bag and my handy Ortlieb Saddle-Bag. (Read my review of it here.) It worked great for tools, repair parts, and snacks.
We hauled the bikes on a hitch-mount carrier, which left the interior of the car wide open for luggage and people. It also made it really easy to load and unload the bikes, so we never balked at heading down the road toward a new adventure.
Critters
One of my big worries on country roads is dogs. I've been racing away from canine growls since my first paper route at age 12. We encountered a few farm dogs on our routes. There were no happy wagging tails, but none of them viewed us as prey, and that's all you can really ask for. There are no guarantees your experience will be the same. Keep your eyes open.
According to the Oregon Fish and Wildlife Department "There are 15 native snake species in Oregon. Of these, only the Western
Rattlesnake has poisonous venom that is dangerous to humans." Watch where you sit. Listen for rattling. Look for them warming up in the sun on the road. I saw a timbler rattler across the Lehigh Gorge Trail in PA last year – very cool.
Last, but certainly not least, is mosquitos. In the desert? Yes – in the desert. If you visit the Malheur National Wildlife Refuge south of Burns, you'll encounter wetlands where melting mountain snow runs off into the valley below. It's a great place for bird watching. The birds must be there to feast on the mosquitos, which are unlike anywhere else I have ever been. As soon as you get out of the car, they surround you like a fog around the Golden Gate Bridge. Bring bug spray, real bug spray. Forget about the lemon-eucalyptus or cedar oil. Buy the strongest DEET you can find. And remember, they can't keep up with you when you're pedaling.
Getting There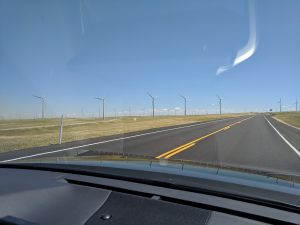 There are lots of different ways to get to Eastern Oregon. Most visitors will probably travel from the Portland area like we did. We wanted the drive to be efficient but scenic and avoid repeating roads. The map below shows our route.
On the way out, we headed east out the Columbia River Gorge, then south on OR-206 through Cottonwood Canyon and into Condon. From there we took OR-19 all the way past Kimberly until it turned into US-26 heading east into to John Day. The traffic was light and the scenery was striking.
From John Day, we took US-395 south through the Malheur National Forest to Burns.
From Burns, we took OR-205 south through the Malheur National Wildlife Refuge to Frenchglen.
After leaving Frenchglen, we decided to loop down around Steens Mountain. Our route continued south on OR-205 to Fields, then turned back north on Fields-Denio Road, which passed through the Alvord Desert and eventually tied into OR-78, which took us northwest back to Burns.
From Burns, we went back up US-395 to John Day and turned west on US-26, which took us all the way back to Portland through the Ochoco National Forest and Warm Springs Indian Reservation and around the southern side of Mt. Hood.
The route was great and I wouldn't change anything about it. The roads were all in good condition and the only gravel was about 30 miles on Fields-Denio Road. Even that was in good enough condition to allow a 50+ mph pace and it allowed us to see the Alvord Desert and the steep cliffs on the east side of Steens Mountain.
Ride #1 – John Day Fossil Beds
The area around John Day is beautiful but very hilly. We opted for a relatively flat ride along OR-19 where it follows the John Day River between the Visitors Center of the John Day Fossil Beds National Monument and the tiny town of Kimberly. This ride is part of the Oregon Old West Scenic Bikeway.
Official Sites: National Monument, Scenic Bikeway
Location: 40 miles west of John Day
Difficulty: Easy
Ride Type: Out-and-Back
The Good:
Easy parking at National Monument Visitors Center
Interesting displays at Visitors Center
Mostly flat with good pavement
Light traffic with courteous drivers
One road – you can't get lost
Striking scenery
Amazing rock formations at Foree Trailhead
Friendly market with snacks in Kimberly
Add to 34-mile round trip by pedaling further along Scenic Bikeway
The Bad:
Short climb to Foree Trailhead is steep (but worth it)
I can't think of anything else – do this ride if you have the opportunity!
Ride #2 – Malheur national Forest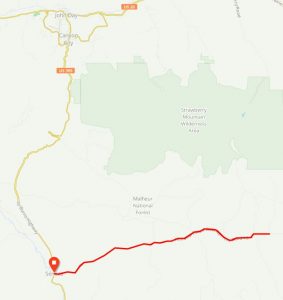 The Malheur National Forest encompasses huge tracts of land around John Day and Burns. It's rugged terrain with lots of gravel roads through the mountains. We decided on a relatively flat ride about 20 miles south of John Day that follows Bear Creek out of Seneca on National Forest Development Road 16 (NF-16).
Official Site: Malheur National Forest
Location: 20 miles south of John Day
Difficulty: Easy
Ride Type: Out-and-Back
The Good:
Easy parking in town of Seneca
Mostly flat, with 3-5% grade after mile 10
Very light traffic with courteous drivers
One road – you can't get lost
Pleasant scenery
Convenient market with snacks at start point in Seneca
Add to 35-mile round trip by pedaling further down NF-16, or wandering off on a side road
The Bad:
Pavement is rough with regularly spaced cross bumps
No services in the National Forest
Ride #3 – Burns Loop – Silvies River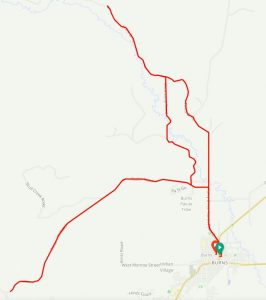 The landscape south of Burns is dead flat and mostly boring. To the north and west it's more hilly and interesting. Based on maps and sattelite images, I picked out an out-and-back route along Silvies River Road that we could ride to right from our hotel in Burns. It started well, but then turned into a private road after about 7 miles. We made adjustments and headed west through the Paiute Indian Reservation but ran into thunderstorms. It can't always be clear skies and smooth sailing.
Official Site: None
Location: 20 miles south of John Day
Difficulty: Easy
Ride Type: Loop, plus Out-and-Back
The Good:
Start and finish in downtown Burns
Partly paved, with good-quality gravel sections
Minimal traffic
Pleasant scenery
The Bad:
Private property prohibits riding further up the Silvies River valley
We only managed about 20 miles total
No services outside of the town of Burns
Possible Alternate Route:
Go north from Burns to the Paiute Reservation, the take Radar Road into the western hills until it hits NF-47/Hines Logging Road. Turn right and ride northwest until you feel like turning around.
Ride #4 – Diamond Craters – Pete French Round Barn Loop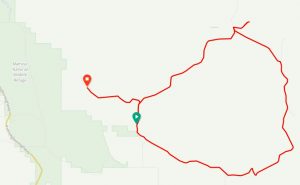 Twenty miles south of Burns lies the Malheur Wildlife Refuge, a massive wetland full of birds and mosquitos. On the eastern edge of the refuge, near the tiny town of Diamond, are two intriguiging sights: Diamond Craters Outstanding Natural Area and the Pete French Round Barn. This ride is loop that explores these two sights, as well as the surrounding countryside.
Official Sites: Malheur NWR, Diamond Craters, Pete French Round Barn
Location: 20 miles north of Frenchglen
Difficulty: Moderate
Ride Type: Loop
The Good:
My favorite ride of the trip
Easy roadside parking
Excelled paved sections, decent gravel section
Minimal traffic
A good workout on the gravel!
Beautiful scenery
Variable distance – into Diamond Craters and past Round Barn on Diamond Craters Rd
Interesting stop at Diamond Craters Oustanding Natural Area
Interesting stop at Pete French Round Barn, including nice (private) Visitor Center with museum, snacks, and restroom.
Possible lunch/dinner stop at Hotel Diamond.
The Bad:
Gravel is big and loose in some places – can be hard to find a good line
Some climbing – it's only 1300 ft elevation gain, but feels like more on coarse gravel
LOTS of mosquitos in wet areas
Ride #5 – FrenchGlen – Malheur NWR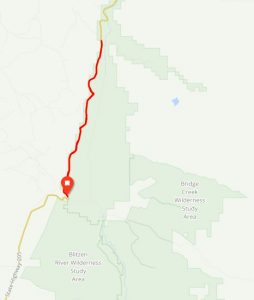 The tiny town of Frenchglen lies at the southern end of the Malheur Natural Wildlife Refuge. We stayed at the Frenchglen Hotel, which is run by the Oregon State Park system. Our original plan was a ride into the southern end of the Refuge. Deterred by the mosquitos, we opted instead for a liesurely ride out of Frenchglen along the edge of the Refuge on OR-205, heading back in the direction of Diamond.
Official Sites: Malheur NWR
Difficulty: Easy
Ride Type: Loop
The Good:
Easy parking in Frenchglen
Excelled pavement sections
Minimal traffic
Nice scenery – hills to the west, Refuge to the east
Add to the distance by going further up OR-205
Possible meal stop at Frenchglen Hotel.
Snacks available at Frenchglen Mercantile
The Bad:
Scenery doesn't vary much along ride
Mostly straight and flat
No services once you leave Frenchglen
Mosquitos may be nuisance when you stop
Possible Alternate Routes:
Ride out of Frenchglen into the Malheur NWR on north Steens Moutain Loop. Turn left into the refuge onto the Center Patrol Road and head north about 10 miles to Krumbo Reservoir Rd. Turn right and work your way back to Frenchglen along the eastern edge of the park, past Baca Lake and down the Eastside Canal Rd. NOTE: This route may include rough gravel and severe mosquito swarms!
Drive south on OR-205 into Catlow Valley. Park and ride out into the quiet gravel roads to the west in the flatlands between Steens Mountain and Hart Mountain. Multiple loops are possible.