Easy Ride – East Out of Portland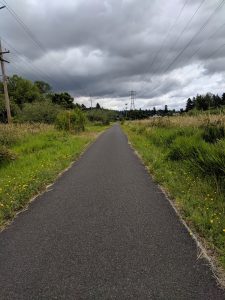 If you're looking for a flat, easy, relaxed ride starting downtown or in the southeast quadrant of Portland, the Springwater Corridor is your choice. It's a rail trail that starts along the Willamette River near the southern end of the Eastbank Esplanade, heads south to Sellwood, then turns east along Johnson Creek and past Powell Butte to Gresham and Boring.
Most of the trail is off-road and the few road transitions are bike friendly.
Official Site: City of Portland Parks
Difficulty: Easy
Ride Type: Out-and-Back
Surface: Paved
★★★☆☆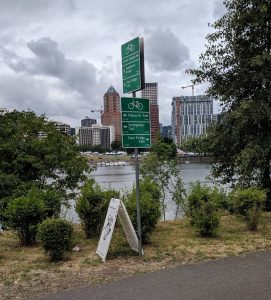 You can jump onto the Springwater trail at lots of different intersections. The official map shows it starting where SE 4th Ave. dead-ends at SE Ivon St. on the east bank of the Willamette River just north of the Ross island Bridge.
The signs are really good. Of course they are…this is "The City That Works".
From downtown, cross any of the bridges, drop down to the Eastbank Esplanade and head south. Shortly after you pass under the Hawthorne bridge, the signs will point to the Springwater. Just after the Oregon Museum of Science and Industry (OMSI) and Portland Opera, turn left onto SE Caruthers St. then right onto SE 4th Ave. In two blocks, the road ends and the trail begins. No cars!
Reaching the trail can be a bit more challenging from the neighborhoods to the east around Hawthorne and Division because the railroad tracks limit the number of east-west streets that reach the river. The easiest access is by heading west on SE Clay St. or by crossing the tracks at SE 8th Ave. off Division St. then heading towards the river on Division Pl.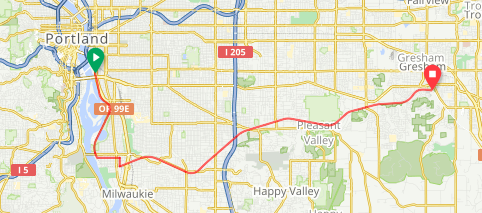 Since the Springwater Corridor is an out-and-back ride, the distance is up to you. Start where you want and stop when you get tired. Don't expect a speedy ride – the trail can get busy and there are lots of road crossings.
The Whole Trail (42 miles – Round Trip):
If you ride the whole trail, you'll start on the Eastbank Esplanade near OMSI and end in Boring. It's a long ride, but is worth it if you have the time and energy. Boring is kind of, well…boring. But the trail is nice and there are a few places to eat right near the termination.
Portland-to-Gresham (32 Miles – Round Trip):
This is a more manageable day ride and it ends in the pleasant town of Gresham, which is a great stop for lunch or a snack before heading back to the city.
Public Transit Options:
If you want a shorter ride, consider public transit. There are several MAX light rail stations convenient to the trail. You can pedal to Gresham and let the train carry you and your bike back downtown.
Gresham Central TC Station (Blue Line) – in central Gresham
Lents/SE Foster Rd. Station (Green Line) – near the I-205 trail intersection
SE Flavel St. Station (Green Line) – near the I-205 trail intersection
SE Tacoma/Johnson Creek Station (Orange Line) – near the intersection with 99E in Sellwood
Here is a link to the TriMet Rail Map.
Sellwood:
Sellwood is a nice neighborhood just a few miles south of downtown. Along the river you'll find Oaks Amusement Park, Oaks Bottom Wildlife Refuge and Sellwood Parks. As you pedal east through the low-traffic city streets away from the river, you'll pass lots of neighborhood shops and restaurants.
Cartlandia:
Portland lives on food carts. They are all over town, lining streets and filling empty lots. I I'm partial to the ones in the less affluent neighborhoods on the outskirts. They can feel like a cross between a trailer park and a flea market, but with great ethnic and regional food at reasonable prices. Cartlandia is perfect example. It's right on the trail, where it intersects with SE 82nd Ave.
Powell Butte Nature Park: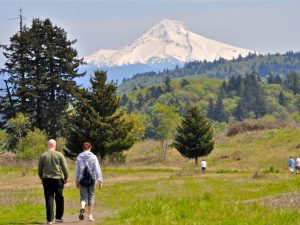 If cycling 30 or 40 miles isn't enough exercise, how about a strenuous hike? About 11 miles from downtown Portland, the trail crosses SE 145th Ave. and begins following the southern edge of Powell Butte Nature Park. A small trailside marker points to Blacktail Deer Trail, which leads into the park. Powell Butte is an extinct cinder cone volcano. The park is comprised of 611 acres of meadowland and forest, and includes over 9 miles of trails. A new Visitor's Center is located just off Powell Blvd. A hike to the 600 ft summit will reward you with great views of Portland and the surrounding mountains.
You're likely to see rabbits, squirrels, deer, and lots of interesting birds. During my recent ride, I saw what looked like a coyote cross the trail in the distance.
Downtown Gresham: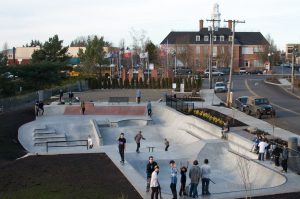 Most people know Gresham as a bunch of strip malls and suburban developments just off I-84, but it has nice old downtown that the trail passes right through. Head north at the Main City Park and cross Powell Blvd. There is an array of shops and restaurants, as well as frequent farmer's markets and other events. It's a great place to stop for lunch before heading back to the city. One good option is to grab some takeout and enjoy it in the park.
Cautions
This is a popular commuter trail. It will be busy during rush hour on weekdays. It also gets busy with recreational riders on weekends.
There are lots of street crossings. The lights, signs, and crossing designs are good, but exercise caution. Most Portland drivers are courteous to cyclists – but there are exceptions and, of course, people texting and driving.
The homeless population has been growing in Portland over the past few years and there are multiple encampments along the trail. You'll see quite a few tents, grocery carts, and interesting characters along the way, with the highest concentration where the trail passes under I-205 about 9 miles from downtown. I've never had an issue and been treated with courtesy by everyone on the trail. But homelessness is often connected to addiction and mental health issues, so it's always sensible to be cautious.
When I rode the trail a few weeks ago, there was major construction between Powell Butte and downtown Gresham. A detour was posted and it looked like you could get around. But I didn't go any further because the weather looked questionable. (Does it rain often in Portland?) Be prepared for detours through the summer of 2019.