Three Rides within 30 miles of Downtown Portland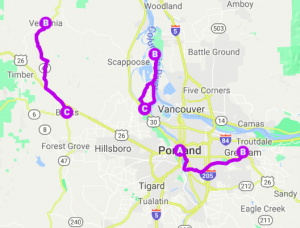 Portland is a one of the most bike friendly cities in the US, with bike lanes everywhere, thousands of bike commuters, local bike shops in most neighborhoods, and lots of organized events. This includes the annual Naked Bike Ride, which flashed through town while I was there in late June and early July. BikePortland.org has a useful calendar.
I have some great friends who live in the lively Hawthorne neighborhood and are kind enough to let me stay in their basement guest suite during extended summer visits when I can enjoy their company and escape the east coast humidity. This year, we ventured out for a week-long trip to do some cycling in the high desert of eastern Oregon. I also took advantage of the opportunity to do some day rides in and around the city. Each was flexible in length, with options up to 40+ miles and offered great scenery with minimal traffic concerns.
Feel free to jump ahead to a specific ride:
"No, You Go…."
There is an episode of "Portlandia" where two drivers arrive at a stop sign simultaneously and both are too polite to go first. It's ridiculous – and not too far from reality. Maybe my perspective is warped from riding in Philadelphia, but Portland just might have the most polite drivers and cyclists in the country.
I hope this doesn't start to change with the adoption of a new law allowing Oregon cyclists to coast through stop signs if there is no cross traffic. It's nice to see people sitting contentedly at red lights and waving each other across intersections. Try to find that in Philly … fuhgettaboudit.
East out of DownTown – Springwater Corridor
Click here for a longer description of the Springwater Corridor ride.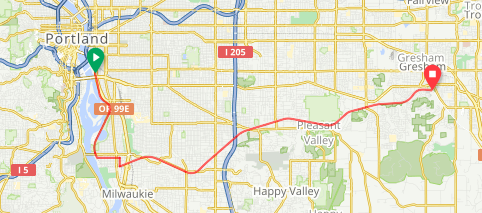 If you're looking for a relaxed ride starting downtown or in the southeast quadrant of Portland, the Springwater Corridor is your choice. It's a rail trail that starts along the Willamette River near the southern end of the Eastbank Esplanade. The closest big cross street is Division. From there the trail heads south along the river to the Sellwood neighborhood, then east along Johnson Creek and past Powell Butte to Gresham and Boring.
Official Site: City of Portland Parks
Difficulty: Easy
Ride Type: Out-and-Back (with Public Transit Options)
The Good:
Mostly flat with good pavement
Rail trail – separated from roads in most locations
Easy start from downtown or southeast neighborhoods
Excellent signage – you won't get lost
Variable distance up to 42 miles for Portland-to-Boring round trip
Neighborhoods and food truck parks along the way
Downtown Gresham has a nice city park, shopping and restaurants
The Bad:
Many road crossing – lots of stops
Homeless encampments on trail – especially around I-205
Can be busy during communiting and recreation hours
North – Sauvie Island
Click here for a longer description of the Sauvie Island ride.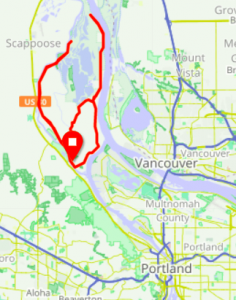 Sauvie Island is a gem. Just 11 miles from downtown Portland, it feels like a world away. Situated just north of the confluence of the Willamette and Columbia Rivers, its winding country lanes lead to quaint farms, lakes, beaches, a lighthouse, and wildlife refuge areas.
Official Site: SauvieIsland.org
Difficulty: Easy
Ride Type: Out-and-Back and/or Loop
The Good:
Possible to cycle from downtown Portland
Easy parking next to bridge
Mostly flat with good pavement
Light traffic
Bucolic setting
Multiple farm markets along route
Variable distance from 15 mile loop up to 50+ miles when riding from downtown
The Bad:
Ride from downtown is along busy highway
I can't think of anything else – do this ride if you have the opportunity!
West – Banks-Vernonia Rail Trail
Click here for a longer description of the Banks-to-Vernonia ride.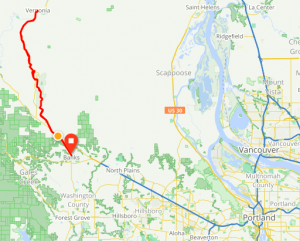 This trail follows an old rail bed through the hills west of Portland. It runs from Banks on the south end to Vernonia in the north. Banks is about 25 miles west of Portland, just off US-26. It's possible to get there by train and bus, but it's a lot easier by car.
Official Site: Oregon State Parks
Difficulty: Moderate
Ride Type: Out-and-Back
The Good:
Easy parking at either end of trail
Paved, with a few gravel crossings
Minimal traffic
Variable distance up to 42 miles for Banks-to-Vernonia round trip
A good workout!
Beautiful wooded scenery
Services (food, etc.) at both ends of trail
The Bad:
Substantial climb from either end – full round trip is nearly 2500 ft elevation gain
Pavement is rough in various locations
A car is needed to get there