Bucolic Loop – Just North of Portland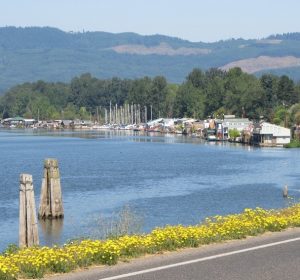 Just 11 miles from downtown Portland, as the waters of the Columbia and Willamette rivers flow from their confluence towards the Pacific Ocean, they encircle a bucolic piece of farm and park land call Sauvie Island. It's about a 60 minute ride (or 20 minute drive) from downtown Portland but feels like a world away, with winding country lanes, quaint farms, lakes, beaches, a lighthouse, and wildlife refuge areas.
Official Site: SauvieIsland.org
Difficulty: Easy
Ride Type: Out-and-Back and/or Loop
Surface: Paved
★★★★☆
Getting There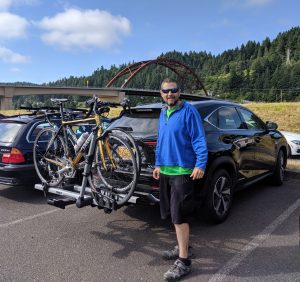 From Portland, take US-30/NW Saint-Helens Rd north along the Willamette River. About 4 miles after passing under the Saint Johns Bridge, you will come to the Sauvie Island Bridge. Go over the bridge and bear left to the parking lot. You can't miss it.
US-30 has bike lanes in both directions and it's fairly flat, so it's easy to cycle to Sauvie Island. However, the route is mostly industrial and traffic can be heavy, so it's not the most enjoyable ride. I prefer to drive out there and save my cycling miles for the quiet, scenic roads around the island.
Ride Options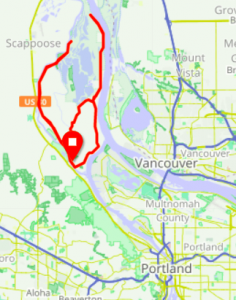 Sauvie Island offers multiple ride options. They're all flat. Click on the map to open route details in RideWithGPS.com.
Lower Loop (12 miles):
Head southeast under the bridge and follow Gillihan Road 6 miles to where it tees into Reeder Road. Turn Left (west) and follow NW Reeder Road about 4 miles until it tees with Sauvie Island Road. Turn left again (south) and follow Sauvie Island Road about 2 miles back to the bridge.
East Side Out-and-Back (adds 14 miles):
At the northern end of Gillihan Road, head northeast on Reeder Road, which runs along the bank of the Columbia River. In 6 miles, you will reach Sauvie Island Beach. After another mile, you will reach Collin's Beach (clothing optional).
At this point the road turns to gravel and the riding gets rough. The gravel is big and loose. I wouldn't recommend going further without wide tires (at least 38mm). However, if you're feeling adventurous, you can ride another 1.5 miles then hike about 3 miles to the Warrior Rock Lighthouse at the northern tip of the island.
West Side Out-and-Back (adds 19 miles):
At the western end of Reeder Road, head north on Sauvie Island Road, which runs along the bank of Multnomah Channel. In 7 miles, you will reach Steelman Lake. After another 2.5 miles, you'll reach the end of the road in the Sauvie Island Wildlife Area.
Camping options:
Unfortunately, no camping is allowed on Sauvie Island. There are two RV parks on Reeder Road near the beaches, but no place you can pitch a tent.
Highlights
Just the beauty of the ride around the island is enough to justify the trip, but there are also numerous worthwhile stops along the way.
The Road:
You'll pass farms, beaches, and lakes. Enjoy the view.
Spaceship / Concrete BoaT:
On Collin's Beach, at the northern end of Reeder Road, sits a curious hunk of grafitti-covered concrete. The regulars seem to refer to it as the "UFO" or "Spaceship". It's actually an old abandoned boat that was built and used by the father of my friend Jon (which is how I knew where to look for it). You can read more about it at this detailed blog post .
The boat is on the southern end of Collin's Beach, near where the road turns from asphalt to gravel. It's about 50 yards from the water, partly obscured by the row of trees that sits between the beach and the road.
If you go, keep in mind that this is a clothing optional beach. It's OK if you keep your shorts and jersey on, but expect to see more than just the spaceship, especially if you go on a holiday or a weekend! Be respectful, and be careful where you point your camera. Perhaps this would be a good way to follow up the annual Portland Naked Bike Ride.
Warrior Rock Lighthouse:
Maps show this small, circa-1889 lighthouse being located at the far northern tip of the island, past the end of Reeder Road. Because of the gravel roads and hiking paths that must be navigated to get there, I've never visited. Maybe next time…

WilDlife area:
Most of the northern end of the island is a designated wildlife area. There are multiple viewing areas and platforms where you can spot birds and other critters.
FaRM Stands:
Multiple farms along the route offer local produce and pick-your-own fruit. Douglas Farm and The Pumpkin Patch, both on the southern end of the island, are well worth a visit. The Pumpkin Patch has nice market, an animal barn, and old farm equipment for the kids (and adults) to check out.
Markets: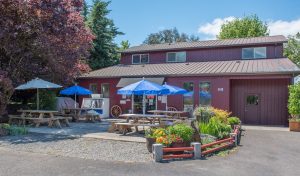 The Island Cove Market on Reeder Rd. just south of Sauvie Island Beach offers beer, wine, and a good selection of snacks and sandwiches. They also have a nice outdoor seating area.