THE VALUE OF HINDSIGHT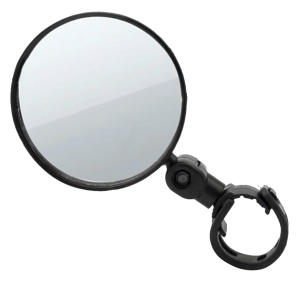 I rode for decades without a mirror and survived without any major incidents, but last year I started thinking about how it might be safer to have one. It would allow me to be more aware of cyclists passing on crowded trails and cars passing on crowded roads.
I considered the various styles, including helmet-mount, eyeglass mount, and lens mount but decided that handlebar mount made the most sense for me.
When I started researching, there were a lot of options available, but they could be fairly pricey and you never know if they'll really work for you until you take them on a ride. I hate spending $20-30 on things, only to realize they don't do what I want, finally tossing them in the box of parts in my closet, never to be used again.
Ebay to the Rescue
Pretty quickly, I headed to eBay and started looking at the options available from Asia. It's interesting to look at the listings. There are dozens of vendors selling identical items and the prices are low enough to allow you buy several options and try them without breaking the bank. The mirrors started at about $1 – with free shipping!
These days, I mostly ride drop bar bikes. I had tried my bar end mirror on one and didn't like it. The bar end isn't far enough to the side, so the refection in the lens is mostly filled by my leg. I want to see the road behind me. A model that straps to the bar and hangs a bit out to the side seemed like a better choice. There were eBay options in a variety of sizes. My bar end mirror was about 1″ x 2″ (about 15 cm2) and that was too small, so I decided to try an oval model about 5 x 7.3 cm (2" x 3") and a larger round model listed as being 8 cm (3") round. That would give me about 30 cm2 and 50 cm2 of viewing area, respectively. They were just under $2 each, including shipping. It costs more than that for a decent cup of coffee. If they were awful, there wasn't much lost and at least I'd figure out more about the virtues and drawbacks of different sizes.
Free Shipping From Asia
Ordering eBay items from Asia is a bad idea for those used to instant gratification. If next day delivery with Amazon Prime is your norm, think twice before hitting "Buy It Now". In my experience delivery times range from about 2 weeks to nearly 2 months. These showed up pretty quickly, in about 3 weeks.
How do these vendors manage to include shipping across the Pacific on items at these low prices? Most sellers would pay more than $2 just for postage to ship these items within the United States. It has to do with international rates set by the Universal Postal Union. It's an interesting political story, and it looks like these low rates may begin to increase in late 2020. You can read more at this news article.
UnPacking
The mirrors arrived in typical low-cost packaging: bubble wrapped items in a bubble wrap envelope. Everything was in good, functional, undamaged condition.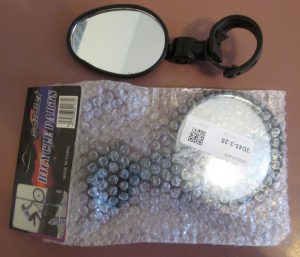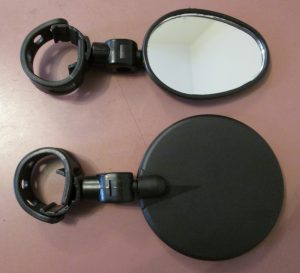 The two mirrors look like they were made in the same factory. The mounting mechanisms are identical, as are the materials:
Body: Black plastic – described in one listing as ABS – this seems correct
Hardware: Black steel screw and nut
Elastic Strap: Black rubber
Mirror: Glass
The materials are appropriate for the intended use and seem reasonably durable. Everything fits together properly and the mirror glass is securely attached to the body. One could debate whether glass is the best choice. It could be dangerous in the case of an accident, though that possibility seems remote since the whole mirror would probably detach before the glass would break and come out of the body. On the other hand, glass is a durable and should resist scratches for a long time.
Weight
Both mirrors are very light. They came in at 1.5 oz (42g) and 1.25 oz (35g) for the larger and smaller ones on my kitchen scale.
dimensions
The dimensions matched the eBay listing. The glass sizes are shown in these photos.
From these photos you can see one critical difference: the oval mirror is flat, but round mirror is convex. As a result, the larger round mirror has a MUCH wider field of view.
Mounting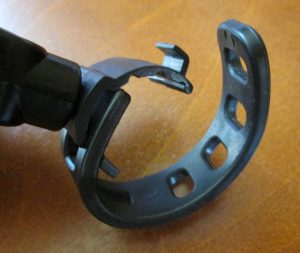 An elastic strap secures the mirror to the bars. It has multiple slots that secure on a raised hook/ridge in the base. This allows the mirror to be installed on bars with a variety of diameters.
The strap is stiff, making it a bit difficult to stretch into place. At first I felt like it was necessary to pull it really tight to secure the mirror, but later realized that wasn't the case. Especially if the bars are wrapped with tape that has some give, the mirror will stay put without much tension on the strap.
adjustability & Stability

The bases on the two mirrors are identical. Each has three points of adjustment. Two allow 360 degrees of rotation. The other allows 180 degrees of pivot.
The pivot adjustment can be loosened or tightened with a hex wrench. The rotation adjustments hold in place using only the friction of the fit between the plastic parts. The friction is consistent in the 3 examples of the mirrors I now own. It's about the right amount: it's easy to spin them for adjustment, but they hold their position under normal riding conditions. They will start to drift a bit on rough patches, like cobblestones or wood-decked bridges, but it's easy enough to just spin them back into position while riding.
Visibility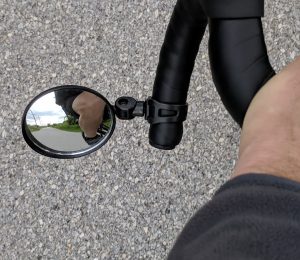 My use of these mirrors has been limited to drop-bar road/gravel bikes, where I have them hanging out to the left side. I was disappointed with the oval mirror. The glass is small and flat, providing a limited rearward view.
The round mirror is great. With the combination of the larger size and convex glass, the visibility is excellent. You can see everything important behind and to the side.
One other consideration is bar shape. The drops on both of my bikes have the outward flare common on gravel bars. This improves the view of the mirror since it's hanging out further to the side. With straighter drops, the view might be partly obstructed by your arm in a normal riding position.
Durability
I've been riding with one of the large round mirrors on each of my two favorite bikes all through the spring and fall of this year. Between them, they been with me through over 1000 miles that included lots of gravel and loaded touring on rough mountain bike trails. They both function now as well as they did when they arrived from China. I expect them to give me years of solid service.
Warranty
None. What do you want for $2? Buy extras and replace them when they break or get stolen.
The Verdict
Don't rule out inexpensive bike gear from China, figuring it must be lousy because it's cheap. These mirrors are a perfect case in point. For the cost of a cup of coffee, they provide a great view and good adjustability in a durable package
Stay away from the smaller round and oval models. Get the larger (3″/8cm) round model with the convex glass.
Order 2 or 3, so you'll have a spare. And be patient…the slow boat will arrive eventually.
Of course, if you want it sooner you can find the same model on Amazon. It will cost you more, but it will arrive in a few days. If you decide to go that route – here is a link to a 2-pack on Amazon. If you click this link it will help fund more useful reviews and stories on Round-N-Round.com!
Comments encouraged!
Note: Round-N-Round.com is a participant in the Amazon Services LLC Associates Program, an affiliate advertising program designed to provide a means for sites to earn advertising fees by advertising and linking to Amazon.com.