Off-Road exploration of the Laurentides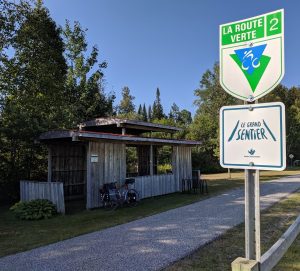 "P'tit Train du Nord" means "little train of the north" in English. When it was constructed around 1900, this rail line was key to the development of industry and tourism in the Laurentian Mountains ("Laurentides" in French). The trains stopped running and the rail bed was abandoned in the 1980's, but now it's been converted to an off-road trail that transports cyclists from the outskirts of Montreal about 200km (124 miles) northwest to Mont-Laurier.
The trail runs along a collection of rivers and lakes that keep the grades moderate and the scenery pleasant. More than half of the trail is paved, including the entire northern half and about 8 miles around Mont-Tremblant. The southern section is gravel.
This is one of the most popular trails in Quebec, with gentle (but steady) climbs and lots of nice towns along the way.
It is also designated as part of Le Route Vert 2 and Le Grand Sentier.
Official Sites: P'tit Train du Nord, Laurentides.com
Difficulty: Easy-to-Moderate
Ride Type: One-Way or Out-and-Back
Surface: Paved and Gravel
★★★★☆
Note: This trail description is based on a longer loop tour I took this summer, continuing from Mont-Laurier south to Ottawa and then back to my starting point in Saint-Jerome. Read about it at: "Montreal-Laurentians-Ottawa Loop".
The P'tit Train du Nord is long enough to be a multi-day tour. There are lots of options: out-and-back or one-way (with shuttle), camping or hotels/BnB's, short days or long rides. You can customize your agenda to suit your goals. Hopefully my descriptions will help you plan an enjoyable ride.
The Good:
Easy parking in St. Jerome
Moderate grades because it's a rail trail
Helpful tourist information centers right on the trail
Attractive, interesting towns along the way, including:

Saint-Jerome
Val-David
Mont-Tremblant
Mont-Laurier

Abundant cyclist-friendly accommodations
One trail – you can't get lost
Excellent signage
Pleasant scenery
Generally good trail condition
The Bad:
The trail can get busy, especially around Mont-Treblant
There is some climbing (about 3500 ft over the full 200 km)
Hills can get steep if you leave the trail.
The trail condition is rough in spots, especially on the paved northern end.
Feel free to jump ahead to a specific segment:
General Considerations
Trail Information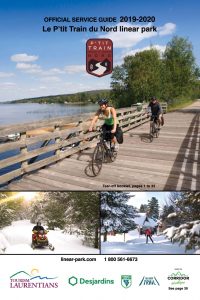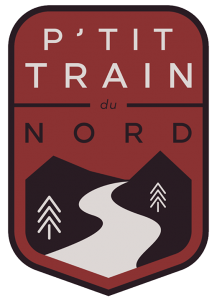 The tourist offices along the trail offer an "Official Services Guide", prepared by Tourism Laurentians, which provides trail maps and a km-by-km list of useful accommodations.
The best online source for information is the official trail website, www.ptittraindunord.com, which has a great interactive map showing lodging, dining, sightseeing, and recreational options along the way.
The P'tit Train du Nord is also designated for cycling as part of Quebec's Route Verte network. Information is available at routeverte.com, though I find this site difficult to use, especially for identifying designated routes.
Many of the the campsites, hotels, and BnB's on the trail have committed to being bicycle friendly. Look for the "Bienvenue Cyclistes" logo.
The trail is also part of the The Great Trail (Le Grand Sentier) across Canada. As a result, the signage is really great. You can study the map for this (much longer) trail at the www.thegreattrail.ca .
Climate and terrain
This area is reasonably populous, especially in the south (closer to Montreal) with towns at regular intervals. However, there are sections that get remote, with limited supplies. It's best to keep your bike well-stocked:
Water is readily available on most of the trail, but there are fewer convenient fountains in the last 40 miles southeast of Mont-Laurier, so fill your bottles for that stretch.
Pack some food – at least some trail mix or energy bars. Keep a meal or two of dry or canned goods if you're camping.
Pack a repair kit (tube, patch kit, pump/inflator, tire levers, multi-tool, cable ties).
Load gps/phone maps offline, so you can still navigate when there is no cell service. Consider paper maps.
Keep an eye on the weather forecast. Quebec can get severe weather, including thunderstorms and humid heat in the summer. Waterproof panniers and good rain gear are essential. The spring and fall can get cold there may even be some snow.
Bike Selection and preparation
This trail is about 40% gravel, which is in very good condition. I was surprised to be more challenged by a some of the asphalt sections in the north, which are rough and rutted. They are well marked (as shown in the photo below) and the trail staff tells me there are plans to complete repairs in the near future. More of the gravel sections are converted to pavement each year as well.
This trail could be ridden on a road bike with narrow tires, but it wouldn't be the best choice. My Salsa Vaya touring bike, with fenders, racks and 38mm tires, was optimal: fast on the smoother paved sections, but stable on the gravel and rougher asphalt.
Some means of carrying supplies is essential, unless you hire the shuttle service to transport your luggage. Any decent rear rack and a set of panniers should do the job. If you're camping, front racks and panniers will also be helpful. You can read about my camping-touring setup at this recent post.
Critters
This trail is is a mix of small towns and rural stretches, where I always worry about being chased by dogs. My helmet goes off to the people of Quebec. Not a single off-leash dog charged at me on the entire trail. Of course, there are no guarantees your experience will be the same. Keep your eyes open.
According to the McGill University (in Montreal), there are no poisonous snakes in Quebec. There are no grizzly bears, either. However, there are black bears, coyotes, wolves, raccoons, etc. None of those typically pose any danger to humans, but it's always a good idea to hang your food from a tree when camping.
Mosquitoes and black flies weren't much of an issue on my trip. Of course, it never hurts to bring bug spray and keep it handy.
Language
The primary language of Quebec is French, but everyone I encountered was bilingual. Some meant it when they said their English was limited, but I always replied (very honestly) that it was much better than my French.
Still, it's always good to know a few phrases in the native language. If nothing else, memorize: "Bonjour. Parlez-vous l'Anglais." ("Hello. Do you speak English.") It will show some respect and get you off to a good start with the locals.
Check out this post for some tips on learning a new language for a tour.
Getting There and Parking

St. Jerome, about 30 miles northwest of Montreal, is the official start point of the trail. It's easy to reach since it's right at the intersection of three major roads: A-15, Rt. 117, and Rt. 158. It's close to the Montreal-Mirabel International Airport, too.
The trail is also accessible from Montreal by train on the Exo2 line. The Intermodal Station St. Jerome is conveniently located at KM-0 on the trail, and the trains have racks to accommodate bikes.
Since the trails draws a lot of tourists, St. Jerome has the welcome mat out for cyclists. There is a parking lot (P9 – Place de la Gare) across the street from the new train station right next to the trail. Parking is $6 per day, payable at a convenient kiosk.
At the northwest corner of the lot sits the old train station which has restrooms (great for changing) and a helpful tourist office that can provide maps, advice, and printouts of accommodations.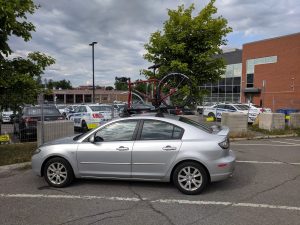 If you are doing a longer tour, like my loop ride, keep in mind that the parking lot has a 7 day maximum. You can contact the city parking office (10 Rue St-Joseph, 450-569-5000) to try to obtain a longer-term pass. I decided to park on the street about a mile north, just off the trail, behind the police station (near the intersection of Rue Moreau and Rue Lachaine). It was free and worked out fine. What could be safer than parking next to the police station, right?
Shuttle to Mont-Laurier
A popular way to experience the trail is to park in Saint-Jerome, take a shuttle (with your bike or a rental) to Mont-Laurier, and ride one-way back. The elevation gain is a bit less this way, and when you finish pedaling, you're back at your car. If you do this, you'll experience the trail in the reverse direction that I will describe below.
Learn more about the shuttle and bike rentals at the website of: Autobus Le Petit Train du Nord.
They can also shuttle your luggage from hotel to hotel, if you'd rather not carry everything on your bike.
Old Train Stations
The old train stations scattered along the trail have been repurposed for trail users and local residents. In various towns, they offer restrooms, picnic areas, tourist information, art galleries, museums, and some charming cafes. Several also have public pianos placed outside, a growing trend that I appreciate. I stopped and played a tune whenever one appeared, which is when I confirmed that Canadians can be a stoic bunch. Nobody reacted: no groans or boos, no compliments…not even a nod. At least I enjoyed it.
Day 1 – Saint-Jerome to Val-David (44 km / 27 mi)
The beginning of the trail winds through downtown St. Jerome and it's suburban neighborhoods then follows the Riviere du Nord through a series of small towns as it climbs gently into the Laurentian Mountains. After about 27 miles (44 km), it reaches the quaint village of Val-David.
The gravel on this section is in very good condition.
Highlights
St. Jerome (km-0):
This city of 70,000 has an attractive center with lots of shops and restaurants close to the trail. Attractions include the 1897 Cathedrale de Saint-Jerome and the Musée d'art contemporain des Laurentides (contemporary art museum). Unfortunately, I didn't get to see much of the city during my trip, since I was rushing to get my bike on the trail on arrival, then racing ahead of thunderstorms when I got back. However, I'm hoping to return and explore the area on another visit.
Saint-Sauveuer (KM-20) and Sainte-Adele (km-26):
These attractive towns (pop. 10,000 and 12,000) both draw visitors for skiing in the winter and water parks in the summer. They can be a nice stop for a meal or some window shopping.
Val-David (KM-42):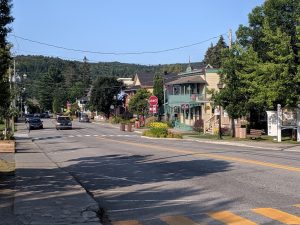 With a welcoming main street (Rue de l'Eglise) full of shops and restaurants, this charming town (pop. 5,000) is a great place to spend a night.
Camping:
Camping Laurentien (Val-David) – Friendly commercial campground just up the hill from the main street. Pleasant and convenient, but the sites are small and tightly packed, and there is traffic noise from busy Rt. 117.
Metro Market (Val-David) – Nice grocery store near the trail – perfect for picking up campsite cooking supplies.
Dining and Lodging:
Le Baril Roulant (Val-David) – This combination microbrewery and BnB/Inn was highly recommended by the staff at the Saint-Jerome Tourist Office. I arrived in Val-David as the sun was setting and needed to set up camp, so I didn't get to stop, but the big porch looked inviting as I pedaled past.

Day 2 – Val-David to Riviere Rouge (94 km / 58 mi)
Heading west out of Val-David, the trail continues along the Riviere du Nord towards Saint-Agathe-des-Monts, where it departs the river and continues west, paralleling the Trans-Canadian Highway towards the resort town of Mont-Tremblant. From there it runs along the bank of the lovely Lac Mercier and begins to follow the Riviere Rouge. After about 58 miles (94 km), it reaches the town named after the river. The steepest section of the trail runs from Saint-Faustin to Mont-Tremblant. In the direction I rode, it was downhill! If you take a shuttle and ride back to Saint-Jerome, it will be a steady climb of 700 feet (215m) over 10 miles (16km). Most of it is paved, which makes it a bit easier.
The paved section of trail around Mont-Tremblant is the busiest segment of the P'tit Train du Nord. It's in very good condition, as is the gravel in rest of the area.
Highlights
Village De Mont-Tremblant (km-92):
Mont-Tremblant (pop. 9600) is a very popular ski resort that also attracts tourists to it's lakes, shops, and restaurants in the summer. It's a bit confusing because the city is actually a collection of villages that merged in 2002. There are three main sectors. The former Ville-Saint-Jovite lies south of the trail at KM-83 and is now referred to as the "downtown" or Centre-Ville sector. I passed it by, not realizing it was there. Based on my followup research, it looks like a pleasant area, but without any major attractions other than shops and restaurants.
The ski resort is called Station Mont Tremblant. It lies about 2.5 miles (4.0 km) east of the trail. There is a cycling loop you can ride to get you there.
Right on the trail at KM-92 is the charming old Village de Mont-Tremblant, which sits on the bank of Lac Mercier. The main street is filled with shops and restaurants. Local paintings and sculpture fill a gallery in the old train station. The scene outside the gallery is bustling with tourists, locals, and cyclists.
I kept pushing on towards Riviere Rouge, but could easily have spent an evening relaxing in The Village and resting at a local hotel or BnB.
Labelle (KM107):
This cute small town (pop. 4500) is a nice stop on the trail, with a restaurant/inn and interesting museum at the old train station.
Riviere-Rouge (KM-129):
Though not particularly charming, this town of 4,600 residents struck me as a good representation of small-town Quebec. It's also a practical stop, with a big IGA grocery store on the main street, a sporting goods store, and lots of other shops and restaurants. The small L'Oie-Zoo has a nice spot for watching migratory birds.
Camping:
Camping Fou du Roi (Riviere-Rouge) – Popular commercial campground along the river just off the trail, close to town. It has a nice beach, but can get crowded and noisy on summer weekends.

IGA Marche Grocery Store (Riviere-Rouge) – Nice, big grocery store near the trail – perfect for picking up campsite cooking supplies.
Coffee and Snacks:
I happened across a nice little cafe just off the trail near the Parc Ecotouristique in Saint-Faustin. It's in a small stone cottage. The service was friendly, and the cake and cappuccino were excellent. I can't find a name for it, but it's on Rue de la Pisciculture at KM-75. RECOMMENDED

Day 3 – Riviere Rouge to Mont-Laurier
(71 km / 44 mi)
The section leading into Mont-Laurier is the most remote part of the trail. I was surprised to find that this section is entirely paved, though the condition is variable. Ruts and buckles from tree roots are frequent. They're well marked with paint, and the trail staff have plans to make repairs in the near future. The grade is gentle, the towns are small, and the scenery is bucolic. Don't count on any finely crafted espresso in this stretch. I didn't find any. Of course, that's not really the point – but it is a bonus when you get it.
Highlights
Nominique (km-146):
Anchored by a nice park and an old train station with a tourist info office, this small town (pop. 2000) is a nice place to stop for a picnic. It's worth pedaling up the the main street, which has a few restaurants and a market.
Mont-Laurier (km-200):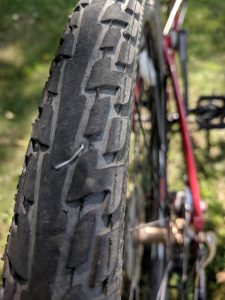 Arriving in Mont-Laurier wasn't the best part of my journey. The last 0.5 mile (1km) of trail was closed, forcing me to ride on the busy Rt. 117 while my rear tire was going flat from an embedded staple. Once I got the flat fixed (slowed by a bad spare tube), I discovered that the hotel I was hoping to stay at had no rooms to offer.
By the time I picked a motel, my expectations were low for the evening. But it turned out that the room was great, the staff was cheerful, and I found a nice bike shop to get a new tube and pump my tires. Things were looking up.
On first arrival, Mont-Laurier (pop. 14,000) can look like a bland series of strip malls, fast food joints, and chain hotels on Rt. 117. But initial appearances can be deceiving. A few blocks north of the highway is a cute downtown centered around Rue de la Madone. At the bottom of the hill, there are parks near the old power plant on the Riviere du Lievre, the faux-facade of Cathédrale Notre-Dame-de-Fourvière, and the striking modern Espace Theatre Muni-Spec. Wandering the streets, trails, and neighborhoods was one of my favorite parts of this journey. Sometimes the unexpected gems sparkle the brightest.
Lodging: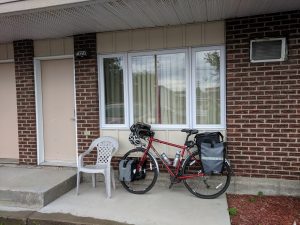 Auberge L'Etape (Mont-Laurier) – Clean, spacious motel rooms within walking distance of the downtown area. (Motel-style rooms are great because they make it easy to get your bike in and out.) Friendly and inexpensive, with a basic continental breakfast included. RECOMMENDED.

Dining:
Place Mont-Laurier Pizza (Mont-Laurier) – Friendly restaurant offering pizza, as well as Greek and Italian dishes. I had pizza poutine, a carb-loaded vegetarian delicacy. RECOMMENDED.
Bike Shop:
Re-Cyclo Sports Perron – 598 Rt. 117 (Mont-Laurier) – The helpful staff was patient with my poor French and the store was well stocked. RECOMMENDED.
From Mont-Laurier, I continued southwest on my Montreal-Laurentians-Ottawa Loop towards the Gatineau Valley, leaving behind the beauty and hospitality of Le P'tit Train du Nord. The next time I travel to the Laurentians, I'm planning to take it more slowly and spend more time exploring the towns and natural areas.
Comments are encouraged…