THE PERFECT ALL-AROUND SEAT BAG?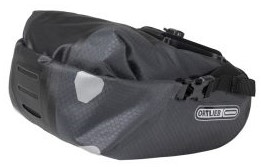 How much stuff do you really need to carry on your bike? And how do you carry it?
Hmm. That's a "loaded" question.
It depends. Are you commuting? Do you need to carry a computer? Clothes? Are you touring? Doing a multiday ride? An all day ride with changing weather?
The answers to many of those questions could easily lead to the conclusion that the best solution is to install a rear rack and have the option of a rack trunk or panniers. Most of my bikes are configured that way. I even have a guitar with a removable neck and a case that's fitted with Ortlieb hardware so it can be easily secured to a rack.
But what if all you are doing is hopping on for a ride after work. It feels good to go fast. It feels good to have a bike that's light and nimble. That rack is heavy, and so are the bags. What about the drag. you paid a lot of money for a bike with a carbon fork and lightweight components, and now your gonna load it down with a bunch of heavy luggage? Not a chance.
I just built up a bike with the sole purpose of being my daily ride, the one I take out for a spin up the Schuylkill River Trail or out to meet friends for dinner. It's not going for overnight trips loaded with camping gear. It's not going to hop downed trees on single track trails. But it's going to see both pavement and gravel. It's going to see weather changes from morning to afternoon or afternoon to evening. It needs to be able to carry some stuff.
Watch the video version of this review:
The Essentials:
With few exceptions, if I get on the bike, I'm going to ride at least 20 miles. Usually, it's more than 30. If something goes wrong, it's going to be too far to walk the bike home. I also may need to stop and secure my bike. I need to carry some things along, just in case. And I want to be able to stow a fleece or jacket as the weather changes. In my view, the bare minimum is:
Spare Tube
Patch Kit
Pump or CO2 Inflation Kit
Multi-Tool
Spare Chain Link & Hardware
Lock
Smart Phone
Snack
Rain Jacket or Lightweight Fleece
A lot of cyclists like to use a small seat bag and the pockets on a jersey, or perhaps a backpack. If that works for you, great. But I hate carrying things on my own back. I want to hang them on the bike.
Storage Options
A handlebar bag is a practical solution. There are lots of good options out there, offering a wide range of sizes and easy access to your stuff without getting off the bike. I have a nice old Cannondale version that's great for long tours. But for everyday rides, I don't want the wind drag and, honestly, just don't like the bulky look.
Frame bags are another option and they can be really convenient. I helped my friend Laura pick out a Blackburn Outpost Elite model for her gravel bike. She used it for our Eastern Oregon Day Rides and really liked it. But I don't think it's as practical for every-day riding because it's bulky and makes the bottle cages unusable.
My preference is to keep my stuff behind me, out-of-sight and out-of-mind. Without a rack, that leaves two options: traditional SADDLE BAGS and the newer generation of BIKE-PACKING SEAT PACKS. But here's the problem:
Traditional SADDLE BAGS are small, with capacities ranging from about 0.3L to 1.5L. That's enough to carry a tube and some tools for a quick ride, but not enough to stow some snacks or a fleece for an extended journey.
BIKEPACKING SEAT PACKS tend to be huge, swaying out in the breeze behind you. Most hold from 5 to 15L and are designed for multiday rides.
I wanted something in between, and there aren't many options. I developed a wish list:
Capacity of 2 to 4 liters – enough to hold my essentials
As light as possible
Waterproof
Sturdy and secure
Quick release attachment mechanism
Place to mount rear light
Reasonably affordable
The Competitors
After a lot of research, I gravitated toward the Ortlieb seat bags. I like Ortlieb products. They're not inexpensive, but they usually deliver good value, solid engineering, and long-term durability. They also offer some options that fall between traditional seat bags and bikepacking seat packs. The only other model that really caught my eye was the Topeak Wedge Drybag. Ortlieb has been offering a larger seat bag for years now, but they recently updated the design. It's simply called Saddle-Bag Two. Both the older are new versions are available in multiple sizes. Here is a quick comparison of the larger models, which are more suited to my goals:
Topeak Wedge Drybag Large

Ortlieb Saddle-Bag Large

Ortlieb Saddle-Bag Two 4.1L

Capacity

1.5 L

(91.5 cu. in.)

2.7 L

(165 cu. in.)

4.1 L

(250 cu. in.)

Adjustable Size

No
Somewhat

Yes

Weight

235 g

(8.27 oz)

329 g

(11.6 oz)

260 g

(9.2 oz)

Waterproof

Yes

Yes

Yes

Quick Release

Optional
Yes

Yes

Easy Light Attachment

Yes
No

Yes

Available Colors

Black
Slate, Lime, Red, and Blue

Slate, Lime, and Red

Street Price

$48

$55

$55-65
Based on specs and photos, the new Saddle-Bag Two looked appealing. It should be larger and more adjustable than the others, with a surprisingly light weight, easy tail-light attachment, and a competitive price. I went to numerous local bike shops but couldn't find one, so I ordered it online. A few days later it arrived. I installed it immediately and have since ridden about 300 miles.
Materials
The Saddle-Bag Two is built around an inner C-Shaped plastic shell. The outer bag is made from what Ortlieb describes as a PU-coated nylon fabric. The fabric is light and flexible but feels strong and tough. The waterproof PU (polyurethane?) coating is on the inside. Overall, the bag feels a lot like my Front Roller Plus panniers. It's smooth and slick on the outside, but the interior water proof coating gives it some friction, which makes it a bit of a chore to slide things in and out. That's not a major issue, but you definitely notice it. There are numerous reflective markings on the bag, which should help with nighttime visibility.
The straps and buckles are typical of other Ortlieb products. They're not particularly heavy duty, but they seem to strike a good balance between light weight and durability. The mounting mechanism is made of molded plastic. It's also typical Ortlieb – simple, lightweight, and sturdy enough for its purpose.

Weight
Ortlieb claims a weight of 268 g (9.2 oz). On my kitchen scale, the bag alone measured about 9 ounces. Adding the mount brought it up to about 10.25 oz.
It feels really light, enough so that you probably won't even notice it being on the bike. By comparison, my medium-duty Trek BackRack Deluxe weighs close to 25 oz and the Interchange trunk bag weighs about 26 oz. Sure, they can carry a lot more, but they add over 3 pounds to the weight of the bike, versus just over a half-pound for the Saddle-Bag Two.
Ortlieb recommends a maximum load of 2 kg (4.4 lbs). That's a lot less than a rack and pannier or a trunk can accommodate. If you routinely carry heavier cargo, the Saddle-Bag Two is not the best choice.
Mounting
The Saddle-Bag Two uses the same mounting system as the previous generation Saddle-Bag. The bag slides onto a simple two piece bracket that clamps to the seat rails with a two Philips head screws. It's thin enough to fit most configurations, as long as you don't have the saddle mounted all the way forward on the rails. The slots are also wide enough to allow it to be installed on the parallel section of the rails, or a little bit further back where they start to taper outward. This can help to tilt the bag upward if the clearance between the seat and rear wheel is tight. This is not a problem for me, but it might be for cyclists on smaller bikes. Ortlieb sells this bracket alone (they call it Art. #E97) , allowing you to easily move the bag among different bikes. It retails for less than $10.
The mount on the bag simply slips onto the bracket and snaps in place. It feels secure and I don't have any worries about the bag falling off if everything is installed properly. The front of the bag also has a Velcro strap that wraps around the seat post. This keeps the bag more secure and minimizes the chances of it swaying from side to side during rides.
Because seats are adjustable forward and backward, the mount is also adjustable, allowing it to be configured so the front of the bag is right up against the seat post while also ensuring that the mount snaps securely into place. Adjustment is tool-free. Simply squeeze the ears on the side of the catch while lifting up, slide it into a new position, then push it back down until it snaps back in place. The catch has a pin on the underside that locks it into position. There are four different hole positions in the mount spaced about 3/8" apart, allowing a wide range of adjustment.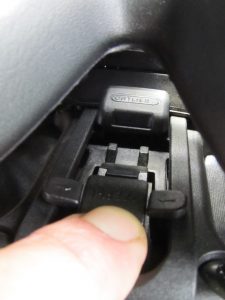 Removal of the bag from the bike is quick and easy. Unfasten the Velcro strap on the seat post, push down the button on the catch, and slide the bag backwards. That's it.
All the parts, including the Velcro strap assembly, are installed with screws. That should make them replaceable in the case of damage or wear. In my experience, Ortlieb makes spare parts readily available through their dealers.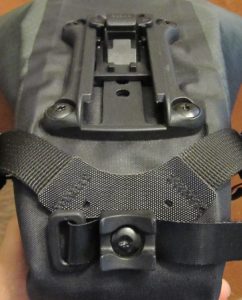 The standard bracket won't work with some saddles, like Brooks spring suspension models, because of the shape of their mounting rails. Ortlieb sells mounting straps separately (Art. # F96E), though with them you lose the benefit of the excellent quick-release system.

Clearance
The Saddle-Bag Two is about 4.5" tall and it hangs about an inch below the seat rails. There is plenty of clearance on my bike, but I wouldn't try to install it on a smaller setup that doesn't have at least a 6" gap between the rear tire and the seat rails.
capacity and adjustability
The interior is large but spartan. No fasteners protrude into the cavity, which is nice. But there are no compartments to pack away small items and keep them from sliding around while you ride.
For now, I'm using an old camera case to hold my tube, patch kit, multi-tool, and spare parts. It fits well up in the nose of the bag. Camping Drybags would be another good option for compartmentalizing storage and keeping items in place. You could even fit your old small seat bag inside. It would be nice if Ortlieb supplied at least one pocket to hold a smart phone within the rigid section.
The C-shaped plastic shell extends about 10" from the nose on the bottom and 7.5" on the top of the bag.
Ortlieb claims a capacity of 4.1 liters, which is about 1.1 gallons. To test this and the waterproof claim, I opened the bag and took a gallon of milk…just kidding. Visually, it looks like close to a gallon.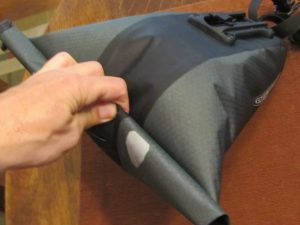 To seal the bag, you roll up the open end. With nothing in the bag, the closure can be rolled over 5 times. This can be a bit challenging because air trapped in the bag pressurizes it. Ortlieb provides a deflation valve on their backpacking Seat-Pack to deal with this issue. It would be a worthwhile addition to the Saddle-Bag Two.
Once the bag is rolled up, it gets sealed up with a strap and buckle that pulls the corner forward on each side. The strap can be pulled tight to compress the contents up towards the nose of the bag. The helps keep the bag compact and it minimizes the amount of shifting inside. Another nice side benefit is that it allows you to easily reach down during a ride and feel the straps to make sure everything is still secure. In practicality, it can be a bit clumsy to connect and disconnect the straps. I often lean one side of the bike up against a pole, fence, or wall when I stop and that hinders access to the side strap. I can't see an obvious solution, and the benefits of the side straps outweigh this inconvenience, in my opinion.
I can easily fit my repair tools, my favorite blue fleece, a snack, and my phone inside. They fill the bag just to the edge of the lower part of the shell. Filled to this point, the closure rolls 4 times, which is what Ortlieb says is necessary to ensure a waterproof seal. Unfortunately, this about the limit of how much you can stuff the bag. It could hold more, but the side straps aren't long enough to secure it if you do. You can see that the strap is fully extended in the photo below. I might try to improvise a supplemental strap to close the bag with more cargo in it.
Stability
The combination of the mounting bracket and the seatpost strap ensures the bag is held in place securely. Once the opening is rolled up and the side straps tightened, the cargo stays in place. During the 300 miles I've ridden with it, I've never noticed any movement or swaying, and it's been completely silent. That would be different if your cargo was loose inside.
Light Mounting
With the previous generation Saddle-Bag, mounting a tail light was difficult because of the position of the straps that sealed the bag at the rear. With the Saddle-Bag Two side-strapping system, there is space for a series of slots that allow easy installation of standard tail light. Mine slid right in and feels secure. There are 5 slots underneath and 3 slots on the part that ends up semi-vertical when you seal the bag. I picked the middle slot on the vertical part and haven't had to move the light, even with the bag loaded to different capacities. I worry that eventually I'll hit a bump and the light will come loose, but tail lights are inexpensive to replace and I'm probably being unnecessarily paranoid.
Splash Protection
Ortlieb claims that Saddle-Bag Two acts as a mini fender on the rear. That's a bit of a stretch but it definitely deflects some water from puddles and light rain. It's no replacement for full fenders, though. During a recent ride after a few rainy days, I encountered a lot of puddles on a gravel trail. The bag deflected most of the water from my back, but there was still mud spatter on my shorts and shirt. I certainly wouldn't count on it for winter commuting in Portland!
Warranty
Ortlieb provides a 5 year warranty on the bag.
The Verdict
The Saddle-Bag Two is an impressively designed piece of equipment. It's light, has a large capacity, attaches and detaches quickly and securely, snugs down easily to secure different size loads, has slots for a tail light, and is built from durable materials. It's a definite improvement over the previous generation and offers some advantages over its competitors.
That said, it has a few minor shortcomings. There are no pockets inside, so it's helpful to supplement it with some sort of smaller internal bag to keep small things from sliding around. A cell phone pocket would be great to protect the screen when things shift during a ride. The friction of the material makes it a bit difficult to slide things in and out. And the side strap securing system is a bit of a mixed blessing. It compresses and secures your cargo very well, but the straps could be longer to accommodate larger loads and they make the bag a bit difficult to open if the bike is leaned with the seat against a pole, wall or fence. It's also a bit challenging to let the air out of the bag as you roll up the closure flaps.
Overall, those are minor quibbles compared to the positive attributes of this bag. The Saddle-Bag Two 4.1L is a solid bag at a fair price that can viably take the place of rack-mounted trunk. I expect mine to get used and abused on a regular basis over the coming years.