Gravel, Dunes, and Boardwalks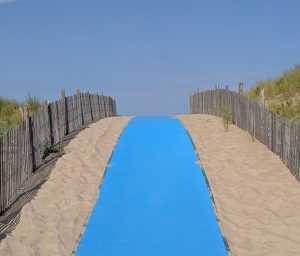 The Delaware shore has a cluster of popular beach towns that are great for cycling. Moderate traffic, flat terrain, interesting scenery, and a few nice trails make it well worth loading your bike on the car for some exploration.
I recently spent a long afternoon pedaling through three towns, past suburban developments, marshlands, forests, dunes, boardwalks, tourist-filled beaches, and the captivating Cape Henlopen State Park.
Official Sites: Delaware Greenways, Cape Henlopen State Park, Delaware Seashore State Park
Difficulty: Easy
Ride Type: Lollipop (out-and-back, with a loop)
Surface: Paved and Gravel
★★★☆☆
The Good:
Easy, flat terrain
Nice mix of trails and roads
Good gravel on trails, nice pavement on roads
Convenient parking in multiple locations
Beach towns with services along the entire route
Diverse route with something for everyone
Extended route possible to Bethany Beach
The Bad:
Can get busy during peak vacation times
Signage is spotty on trails
Route 1 south of Dewey Beach is busy and loud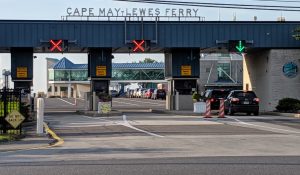 Getting to the Delaware beaches is easiest by car. From the north, take DE-1. From the south take US-13 to US-9. The routes converge in Lewes.
From New Jersey, the best option is to take the Cape May-Lewes Ferry. The Lewes station is right across Cape Henlopen Drive from the trail, so you can leave your car in Cape May and ride the ferry with just your bike.
There are bus stations on the outskirts of Lewes and in Cape May, so public transit is theoretically possible, but it won't be easy.
Lewes to Delaware Seashore State Park (33 miles – Round Trip):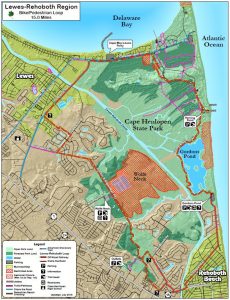 Starting in Lewes, the route follows the Junction and Breakwater Trail to Rehoboth Beach. From there, it's a short jaunt south on small-town streets to Dewey Beach, where you continue pedaling south on a barrier island towards Bethany Beach. You'll pedal about 5 miles on the shoulder of DE-1 through Delaware Seashore State Park, ending at the dramatic bridge over the Indian River Inlet.
At this point the route returns to Rehoboth Beach along DE-1, then heads north along the shore into Cape Henlopen State Park where it follows Gordons Pond Trail north. The park roads eventually lead to Cape Henlopen Drive, where a separated bike path carries you back to Lewes.
Shorter Ride – Just the Loop (15 miles):
For a shorter ride, you can eliminate the section down the shoulder of DE-1 through Delaware Seashore State Park, focusing instead on just the loop around Cape Henlopen State Park.
Longer Ride – Lewes to Bethany Beach (43 miles – Round Trip):
For a longer ride, you can continue on DE-1 past Delaware Seashore State Park another 5 miles to Bethany Beach.
Parking can be challenging in the busy beach areas. There are better options:
Lewes Public Library:
Located just a few blocks from downtown Lewes, the library has a large free parking lot that welcomes cyclists AND has nice, clean public restrooms where you can change into your cycling clothes and fill up water bottles. The library sits right next to the (relatively) new Lewes-Georgetown Trail. Simply head northeast on the trail. In about a half-mile, loop under to the other side of US-9 where the Junction and Breakwater Trail begins meandering towards Rehoboth.
Cape Henlopen State Park:
This park has a number of day use lots that are right next to the trail, as well as the beaches and other attractions in the park. Many of them have conveniently located restrooms. The entrance fee is $10 (or $5 for Delaware residents).
"Wolfe Neck" and "Outlets" lots:
Two additional parking lots are conveniently located along the Junction and Breakwater Trail. The one on Wolfe Neck Road costs $8 and has restrooms. The one at the Tanger outlets is free and has lots of facilities nearby.
General Considerations
Terrain and Conditions:
Most of the loop around Cape Henlopen State Park is off-road – no cars!
Both the gravel and asphalt surfaces are in very good condition.
Signage is spotty, especially on the Junction and Breakwater Trail, which has quite a few turns. GPS or a printed map can be really helpul.
DE-1 south of Dewey beach has a wide shoulder, but traffic is heavy and there is little shade.
Food and water are readily available at stores, restaurants, and beaches along the trail.
Cell signals are good the whole way.
Camping Options: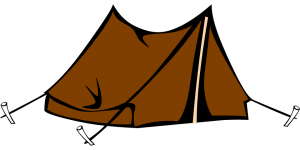 Although this ride is short enough for a day trip, there is a lot to see and do in the area. An overnight stay would allow more exploration. Plenty of hotels are located near the beaches, but there are also some camping options:
Cape Henlopen State Park has a nice looking campground with 22 walk-in tent sites right next to the bike trail ($25+/night for Delaware residents, $30+ for others). It can get busy, so it's always best to contact them ahead of time for a reservation. Learn more at the park camping web page.
Delaware Seashore State Park also has two campgrounds with hundreds of spaces. However, they are out in fields and full of RV's. This wouldn't be my first choice, but it might be worth considering on a busy weekend. Learn more at the park camping web page.

Bike Selection:
This route is very flat and includes a mix of nice asphalt and well-maintained gravel paths. Any bike will work. I saw mountain bikes, carbon road bikes, and lots of single speed beach cruisers. Everyone looked happy.
Junction and Breakwater Trail:
This six mile trail runs through neighborhoods, marshland, and woods from Lewes to the western edge of Rehoboth Beach. It's a mix of paved and gravel surfaces. The scenery is nice, but the signage is spotty. I made a few wrong turns at intersections where an arrow would have been helpful.
Rehoboth Beach:
At the end of the Junction and Breakwater Trail, you can wind through neighborhood streets east towards the beach. Rehoboth Ave. is a nice commercial boulevard that ends at a pavillion on the ocean. The boardwalk is worth a stroll. It's a good place to grab a snack or some ice cream. It's best to walk here. Bikes are only allowed on the boardwalk from 5 AM to 10 AM during the May 15 to September 15. There are plenty of racks to lock up while you explore. Of course, you can also work on your tan or jump in the water to cool off.
Dewey Beach:
The best way to head out of Rehoboth is on Bayard Ave., which curves past Silver Lake, turns into King Charles Ave. then merges into DE-1, the main drag through narrow Dewey Beach. Like Rehoboth, it's packed with shops, restaurants, and bars, and has it's own boardwalk.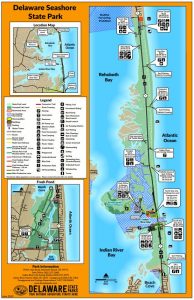 Delaware Seashore State Park :
South of Dewey Beach, DE-1 follows a narrow strip of land sandwiched between Rehoboth Bay and the Atlantic Ocean. The 5 mile stretch down to the Indian River Inlet is preserved as Delaware Seashore State Park. Don't fooled into expecting a quiet pastoral ride, though. The highway is the only way through. The shoulders are wide and marked for bikes, but it's loud with a never-ending stream of traffic.
Along the way, there are some interesting sights:
Towers Beach – a day area that includes beach access and WWII-era watch towers.
Indian River Life Saving Station Musuem – a restored 1876 station that houses exhibits about turn-of-the-century techniques used to rescue sailing ships in distress. There is also a gift shop.
Charles W. Cullen Bridge – a dramatic cable-stay bridge over the Indian River Inlet.
Cape Henlopen State Park:
Along the Atlantic coast, east of Lewes and north of Rehoboth Beach, sits the 5,193 acre Cape Henlopen State Park. Exploring this unexpectedly diverse and interesting park was the highlight of the ride for me.
Sitting on land first designated for public use by William Penn in the 17th century, Cape Henlopen has a long maritime and military history in addition to being a great recreational resource.
Starting near the beach access at the south end of the park, Gordon's Pond Trail runs 3 miles through pine woods, wetlands, and dunes. It's mostly gravel, with a long, amazing elevated section north of the pond.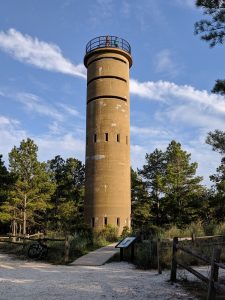 The northern end of the park is packed with interesting sites and recreational opportunities, including:
Campground
Beaches
Hiking Trails
The Point and Lighthouse
Seaside Nature Center
Sports Fields
Disc Golf
Observation Tower – Open to Top
Fort Miles Museum
The cape's importance in defending the country becomes clear while exploring the Fort Miles Historic Area. You can walk around WWII-era barracks and armaments that include a 16″ gun that could pierce ship armor at a range of 27.5 miles.
You could easily spend a weekend just taking in the sights at Cape Henlopen State Park.
Just up the coast is Lewes Beach, Great Marsh Preserve, and the Prime Hook Wildlife Refuge. I didn't even make it up to those. Of course, that's good motivation for another adventure on the Delaware Shore.