A Good Workout in the Hills West of Portland
If you're looking for a day ride that's a bit more strenuous than the Springwater Corridor or Sauvie Island, but want to avoid the stress of traffic-heavy roads, check out the Banks-Vernonia Rail Trail. It offers nice towns, great scenery, some elevation changes, and even multiple options for camping.
Official Site: Oregon State Parks
Difficulty: Moderate
Ride Type: Out-and-Back
Surface: Paved
★★★☆☆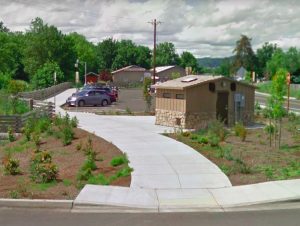 From Portland, take US-26 west. After about 21 miles, the divided highway will end. Stay on US-26 another mile, then turn left onto Banks Rd. In 2 miles, you'll approach Main St. The trail starts at the intersection. There is parking on both sides of Banks Rd.
There is no easy way to cycle or take public transit to reach this trail. If you must, it's possible to take the MAX Blue Line train to Hillsboro then either cycle to Banks (about 15 miles) or take a bus. I recommend driving out there (if possible) and saving your cycling miles for the trail.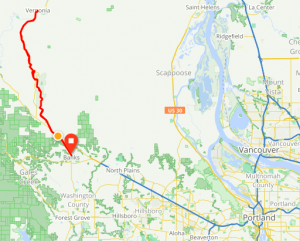 Navigating this ride is as easy as it gets – just follow the trail. Since the Banks-Vernonia Rail Trail is an out-and-back ride, the distance is up to you. There are several possible start points, but Banks is the easiest. Stop whenever you want and head back.
The Whole Trail (42 miles – Round Trip):
If you ride the whole trail, you'll start at the trailhead in Banks and end in the center of Vernonia. The trail is nice the whole way and there are bike-friendly places to stop for a snack or lunch in Vernonia.
tophill Trail-Head to Vernonia (17 Miles – Round Trip):
If you want a milder day ride, with less distance and climbing, consider driving to the parking area at Tophill Trailhead. It's right on the Nehalem Highway.
Terrain and Conditions:
The entire trail is off-road – no cars!
The entire trail is paved, but there is substantial asphalt deterioration in spots, as well as some rough bridge-asphalt transitions. Ride with care!
There are a few road crossings where you might encounter loose gravel.
Elevation gain:
Usually rail trails are flat. Don't be fooled. On this ride, you are always either climbing or descending. The grade rarely gets above 3%, but it's steady.
The total climb if you do the entire ride is just under 2500 ft. For comparison, the Springwater Corridor climb is about 700 ft if you ride to Gresham and back.
As you can see from the elevation profile, after leaving Banks there is a steady climb of about 700 ft over six miles. Of course, the coast back down is a lot of fun.
There are some sharp switchbacks and steeper short climbs (up to 11% grade) near the midpoint at the Tophill Trailhead.

Camping Options:
The city of Vernonia allows camping at three of it's parks: Andersen Park, Vernonia Lake, and Nehalem River Park. Get more info at HERE. Camp sites are also available at LL Stub Stewart State Park near the mid-point of the trail.
Just the scenery along trail is enough to justify the trip, but there are also a few worthwhile stops along the way.
The Trail:
You'll pass farms fields, forest, and hills. Enjoy the view.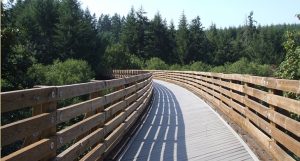 Banks (Pop. 2000):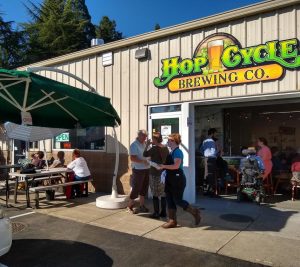 Banks is a small town, surrounded by hills and farms. You can find a few shops and restaurants on Main Street, including Hop Cycle Brewing Company, who left a flyer on our car window – smart marketing. I had a flight to catch, so we didn't have time to stop, but it looks like a good place to grab a beer and sandwich after a ride. Given the name, it must be bike-friendly, right?
LL Stub Stewart State Park:
About 10 miles north of Banks, the trail passes through the 1800 acre LL Stub Stewart State Park, which offers multiple recreation options, including 25 miles of hiking trails and an 18-hole disc-golf course. If you forgot your discs, the website says you can buy them at the Visitor's Center.
A variety of camping options are available, from primitive backcounty tent sites to affordable rustic cabins.
Vernonia (Pop. 2200):
The trail ends in the small, tidy town of Vernonia. It has an attractive commercial strip (Bridge St.) with numerous shops, restaurants, and biker bars. Apparently Vernonia is popular with riders of both pedal- and motor-driven two-wheelers.
We settled in for lunch at The Black Iron Grill. They have a nice outdoor seating area with a bike rack visible from the tables, so you don't even need to lock up. The menu includes a good selection of burgers, sandwiches, and salads, with some vegetarian options.
Another option is to grab some picnic supplies at the grocery and find a place to sit near the Nehalem River in Andersen Park.