Triangular Tour of Southern Quebec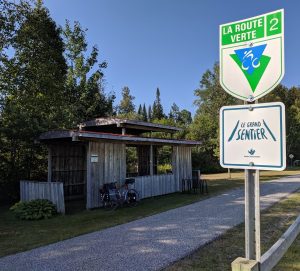 Quebec has a great collection of cycling routes, ranging from rail trails to well-marked roads and urban bike lanes. A few years ago, I read about a loop ride from Montreal up into the Laurentian Mountains, down to Ottawa, and back to Montreal. This summer, I finally mapped it out, packed my gear, and hit the road for a solo adventure. It was a great 8-day, 360-mile ride.
It's easiest to think of this tour as a triangle:
The first leg heads out of the suburbs northwest of Montreal along the P'tit Train du Nord rail trail and ends in Mt. Laurier.
The second leg follows roads west out of Mt. Laurier to Maniwaki, where it connects with the Veloroute du Draveurs heading south to Lows. From there roads and/or trails lead the way into Ottawa.
The final leg follows the Ottawa River back to the outskirts of Montreal.
There are lots of options: camping or hotels/BnB's, trails or roads, short days or long rides. You can customize your agenda to suit your goals. Hopefully my descriptions will help you plan an enjoyable ride.
Feel free to jump ahead to a specific segment:
General Considerations
Climate and terrain
This area is reasonably populous, with towns at regular intervals. However, there are sections that get remote, with limited supplies. It's best to keep your bike well-stocked:
Keep your water bottles filled. You'll hit some stretches with no easy water for 20-30 miles.
Pack some food – at least some trail mix or energy bars. Keep a meal or two of dry or canned goods if you're camping. There's a chance you'll get to a campsite without a nearby grocery.
Pack a repair kit (tube, patch kit, pump/inflator, tire levers, multi-tool, cable ties).
Load gps/phone maps offline, so you can still navigate when there is no cell service. Consider paper maps.
Keep an eye on the weather forecast. Quebec can get severe weather, including thunderstorms and humid heat in the summer. Waterproof panniers and good rain gear are essential. The spring and fall can get cold there may even be some snow.
This is hilly country. Be prepared for some climbing. The rail trail sections have moderate grades, but the road sections are more strenuous, especially on a loaded bike. Look closely at the elevation profiles on the maps to be sure you know what you're getting into.
I rode through Gatineau Park on "mountain bike trails". It was really beautiful, but I pushed my bike up a lot of rocky, rutted hills. I occasionally thought about how angry most of my friends would have been if I had taken them there. If you're not an experienced "adventure cyclist", choose another route from Wakefield to Ottawa.
Bike Selection and preparation
This loop includes at least 100 miles of gravel trails and dirt roads. Some of them are sandy, rutted, or washboarded.
A carbon road bike with 23mm tires is not a good choice, especially since that wouldn't be a very good rig for carrying gear. I rode my Salsa Vaya touring bike with fenders, racks and 38mm tires. It provided a good balance: fast enough on the pavement but stable on most of the rough gravel patches. There were some sandy sections where it slid around, and it definitely wasn't the best choice for the mountain bike trails in Gatineau Park, but overall it was great.
Some means of carrying supplies is essential. Any decent rear rack and a set of panniers should do the job. If you're camping, front racks and panniers will also be helpful. You can read about my camping-touring setup at this recent post.
Critters
Much of this trail is rural and I always worry about being chased by dogs. My helmet goes off to the people of Quebec. Not a single off-leash dog charged at me on the entire route. Of course, there are no guarantees your experience will be the same. Keep your eyes open.
According to the McGill University (in Montreal), there are no poisonous snakes in Quebec. That's a relief.
There are no grizzly bears, either. However, there are black bears, coyotes, wolves, raccoons, etc. None of those typically pose any danger to humans, but it's always a good idea to hang your food from a tree when camping.
Last, but certainly not least, is airborne pests. There are mosquitos in varying intensity along the route, and the black flies along the Veloroute des Draveurs are ferocious. Bring bug spray and keep it handy.
Language
The primary language of Quebec is French. However, because this region is fairly close to English-speaking Ontario and the urban center of Montreal, almost everyone is bilingual. Some meant it when they said their English was limited, but I always replied (very honestly) that it was much better than my French.
Still, it's always good to know a few phrases in the native language. If nothing else, memorize: "Bonjour. Parlez-vous l'Anglais." ("Hello. Do you speak English.") It will show some respect and get you off to a good start with the locals.
Check out this post for some tips on learning a new language for a tour.
Route Verte + Le Grand Sentier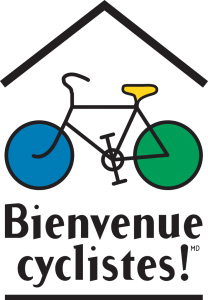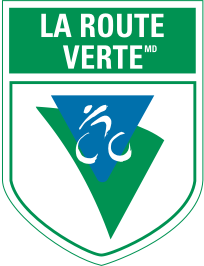 Most of this route follows trails and roads that are designated for cycling as part of Quebec's Route Verte network. Information is available at the Official Website , though I find it frustratingly difficult to use, especially for identifying designated routes. Many campsites, hotels, and BnB's have committed to be bicycle friendly. Look for the "Bienvenue Cyclistes" logo. They are easier to find on the site.
It might be worth purchasing the Official Guide before embarking on this tour. It costs $25 and is packed with practical information.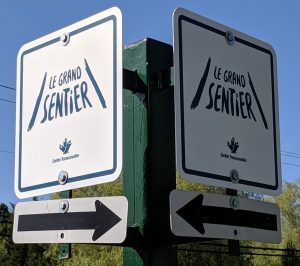 The first two legs (Saint-Jerome to Mont-Laurier to Ottowa) are also part of the The Great Trail (Le Grand Sentier) across Canada. The signage is really great. You can study the map for this trail at the Official Website.
Getting There and Parking

Since this is a loop, you can start/finish anywhere along the way. I picked St. Jerome, about 30 miles northwest of Montreal. It's easy to get there since it's right at the intersection of three major roads: A-15, Rt. 117, and Rt. 158. It's close to the Montreal-Mirabel International Airport, too.
St. Jerome is the most common starting point for P'tit Train du Nord rail trail, so it's got the welcome mat out for cyclists. There is a parking lot (P9 – Place de la Gare) across the street from the new train station right next to the trail. At the northwest corner of the lot sits the old train station which has restrooms (great for changing) and a helpful tourist office that can provide maps, advice, and printouts of accommodations.
Parking at the lot is $6/day, BUT there is a limit of 7 days during the summer. Most people will take longer than that to ride this loop. The staff at the information office told me there might be 10 day passes available at the city parking office (10 Rue St-Joseph, 450-569-5000).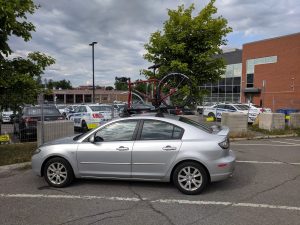 Rather than trying to chase down a longer pass, I decided to park on the street about a mile north, just off the trail, behind the police station (near the intersection of Rue Moreau and Rue Lachaine). It was free and worked out fine.
Leg #1 – Parc Lineare Le P'tit Train du Nord



Saint Jerome to Mont-Laurier (200 km/125 mi)
Click here for a longer description of the P'tit Train du Nord section.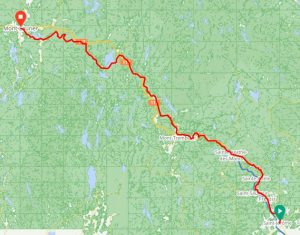 "P'tit Train du Nord" means "little train of the north" in English. This entire leg follows an off-road trail built on a rail bed that was abandoned in the 1980's. It runs along a collection of rivers and lakes that keep the grades moderate and the scenery pleasant. Most of the southern half is gravel. About 8 miles around Mont-Tremblant and the entire upper half are paved.
This is one of the most popular trails in Quebec, with gently (but steady) climbs and lots of nice towns along the way.
It is also designated as part of Le Route Vert 2 and Le Grand Sentier.
Official Sites: P'tit Train du Nord, Laurentides.com
Difficulty: Easy-to-Moderate
The Good:
Easy parking in St. Jerome
Moderate grades because it's a rail trail
Helpful tourist information centers right on the trail
Attractive, interesting towns along the way, including:

Saint-Jerome
Val-David
Mont-Tremblant
Mont-Laurier

Abundant cyclist-friendly accommodations
One trail – you can't get lost
Excellent signage
Pleasant scenery
Generally good trail condition
The Bad:
The trail can get busy, especially around Mont-Treblant
There is some climbing (about 3500 ft over the full 200 km)
Hills can get steep if you leave the trail.
The trail condition is rough in spots, especially on the paved northern end.
My Schedule:
Day 1:

Arrive at Saint-Jerome. Ride 27 miles to Val-David. Camp at Camping Laurentien

Day 2:

Ride 58 miles to Riviere Rouge. Camp at Camping Fou du Roi.

Day 3:

Ride 44 miles to Mount-Laurier. Stay at Auberge L'Etape (motel).
Leg #2 – Gatineau Valley – Including Veloroute Des Draveurs

Mont-Laurier to Ottawa (215 km/133 mi)
Click here for a longer description of the Gatineau Valley section. (COMING SOON)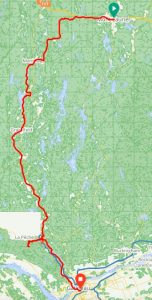 Ottawa, the beautiful capital of Canada, lies almost directly south of Mont-Laurier. Between the two sits another rail trail called the VeloRoute des Draveurs. (Dedicated to the log drivers who braved the waterways to transport timber south.) It covers 72km/45mi of this leg. The entire section is designated as part of Le Grand Sentier.
This route is not nearly as popular as the P'tit Train du Nord. I barely saw any other cyclists in the northern half. The towns are less touristy, and a bit more gritty, but still interesting enough to explore.
Ottawa is a real gem, well worth spending more than one night. It's got dramatic historic buildings, interesting neighborhoods, lots of museums, and an extensive cycling network.
Official Sites: Veloroute des Draveurs, Gatineau Park,
Difficulty: Easy-to-Moderate
The Good:
Light traffic on the roads in the northern section
Moderate grades in the middle because it's a rail trail
Several towns worth a stop along the way, including:

Aumond
Maniwaki
Wakefield

Good signage, especially if you follow Le Grand Sentier
Beautiful lakes and pleasant scenery
The Chemin de la Riviere between Farrellton and Wakefield is particularly nice
Good camping and interesting sights in Gatineau Park
Lots to see in Ottawa, including the beautiful loop around the town on the Rideau Canal path
The Bad:
There is some climbing (over 5000 ft along the full 225 km)
The roads between Mount-Laurier and Maniwaki are hilly
The Veloroute Des Draveurs is not maintained between Maniwaki and Farley. The roads in the map are a better option.
The southern half of the Veloroute des Draveurs is sandy and rough
The black flies are brutal around Kazabazua and Venosta
Route 105 (south of Low) is busy, with a rough narrow shoulder in some locations
The trails in Gatineau Park are better suited to a mountain bike than a loaded touring rig
My Schedule:
Day 4:

Ride 48 miles to Messines. Camp at Camping Le Petit Lac.

Day 5:

Ride 60 miles to Wakefield and Gatineau Park. Camp at Campground Lac Phillipe.

Day 6:

Ride 25 miles to Ottawa. Stay at Alt Hotel (downtown).
Recommended Alternate Routes:
Skip Gatineau Park unless you are an avid mountain biker or just absolutely want to camp there. The trails are really too rough for a touring bike. Instead, spend the night in Wakefield and head south toward Ottawa along the Chemin du Riviere.
To avoid the sandy, black-fly infested sections of the VeloRoute des Draveurs, ride on the shoulder of Rt. 105 from Kazabazua south.

Leg #3 – Ottawa Valley

Ottawa to St. Jerome (158 km/98 mi)
Click here for a longer description of the Ottawa Valley section. (COMING SOON)
The final leg of this journey follows the northern shore of the Ottawa River from Gatineau to Lachute. From there it follows the Riviere du Nord back to St. Jerome.

The section along the Ottawa River is designated as La Route Verte 1 and runs almost entirely on the shoulder of Rt. 148, which is wide and pleasant.
Most bike maps recommend a diversion into the Parc National de Plaisance, which costs 8.75$ to enter. With thunderstorms closing in, I decided to stay on Rt. 148 and cover the miles more quickly.
Leaving the Ottawa River, after a short bit on Rt. 158, I jumped to the north bank the river just east of Lachute and followed Le Chemin de la Riviere du Nord for the final 20 miles (33 km). What a beautiful road! It was a great way to end the journey.
Official Site: La Route Verte, Outaouais Tourism
Difficulty: Easy-to-Moderate
The Good:
Moderate grades along the rivers
Attractive, interesting towns along the way, including:

Gatineau
Montebello
Lachute
St. Jerome

Plenty of cyclist-friendly accommodations
Excellent signage
Pleasant scenery
Cycle-friendly roads in very good condition
The Bad:
Traffic gets heavy and there are a few steep sections on the last few miles into Saint-Jerome
My Schedule:
Day 7:

Ride 60 miles to Grenville-sur-la-Rouge. Camp at Halte-Camping Chute des Sept-Soeurs.

Day 8:

Ride 38 miles back to Saint-Jerome. Depart Quebec.
Possible Alternate Routes:
To avoid the roads along the Ottawa River, it's possible to ride on the Prescott-Russell Recreational Trail, a rail trail on the Ontario (southern) side of the river that goes through several small towns along the way. The distance is about the same, but my research indicates this trail is not well maintained and the scenery can be monotonous. I recommend the route I took along the river on the Quebec side.
For a faster ride into Saint-Jerome, it is possible to skip the section on Le Chemin de la Riviere du Nord, which is winding and partly gravel, and ride the shoulder of Rt. 158 instead. However, Rt. 158 is heavy with traffic and the gravel road is really enjoyable. The few extra minutes on the Chemin de la Riviere are time well spent.
The Verdict

This is a really nice loop ride for a moderately experienced cyclist. I would certainly ride it again, but would recommend a few changes to my route and itinerary:
Don't ride the trails through Gatineau Park unless you have an "adventure/gravel" bike and have mountain biking experience. Stay in Wakefield instead and ride to Gatineau along the river.
Ride on Rt. 105 instead of the Veloroute des Draveurs once you get close to Kazabazua.
Spend an extra night in Ottawa to explore the area and visit some museums.
If possible, ride shorter days and spend more time exploring the nicer towns, like Saint-Jerome, Val-David, Mont-Tremblant, Wakefield, Montebello, and Lachute.
Enjoy the ride!
Comments are encouraged…