Preparing for a Self-Supported Adventure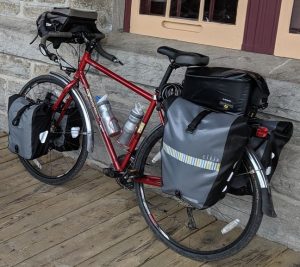 Getting ready for an extended tour can be both exciting and stressful. You're about to embark on a big, challenging adventure and don't want to load your bike down with too much weight, but you also don't want to be left stranded on the side of the road or suffer at a camp site because you forgot to pack something important.
I just finished an 8-day, 400-mile trek around Quebec and took the opportunity to document my current touring gear collection, which has been refined over a decade of trips.
Tour Type
Exactly what you'll need to carry depends on the circumstances of the tour. The major factors are:
Length of Tour (Days and Miles)
Sleeping Plans (Some Camping or All Lodging)
Season and Weather
Rural or Urban Nature of Route
Comfort and Dining Expectations
The equipment I'll describe is for a moderate-length (1-2 weeks), warm-weather tour that includes some camping along a route with remote areas. You can adjust based on differences in your tour.
Checklist
A printed checklist can be really helpful to ensure you don't forget anything. Click on this image to open a PDF version of my checklist. Send us an email if you'd like the original Excel spreadsheet so you can modify it.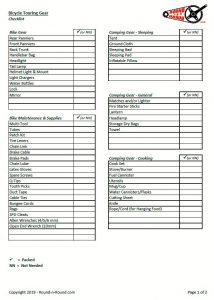 Bike Setup

Your bike will need some accessories to carry gear and deal with long stretches with bad weather, darkness or limited water. This could include:
Rear Rack (essential – I like the Bontrager BackRack Deluxe because it's affordable, has lower pannier rails, accepts the convenient Interchange quick release rack trunks, and has a rear light mounting plate)
Front Rack (optional – allows front panniers for more storage and better weight distribution)
Fenders (because rain happens)
Bottle Cages (at least two)
Bell (to warn pedestrians, other cyclists, and animals that you are approaching)
Front and Rear Light Mounts
Storage
You need to carry stuff. These days, a lot of adventurous cyclists are riding fat-tired bikes and carrying minimalist gear in a style described as "bikepacking", with strap-on handlebar and frame bags, and big saddle-mounted packs. I'm sure it works fine, but I'm more of a traditionalist. Racks and panniers are a bit heavier and they limit your ability to travel on rough trails, but in most other ways, they are more practical. They provide better gear access and more storage space, maintain a lower center of gravity, and are easier to install and remove.
Whatever you choose, everything should be waterproof. Some models include rain covers. Others are made with waterproof materials and closures. Buy the best bags you can afford. I'm a big fan of Ortlieb products. In my opinion, they perfectly balance functionality, durability, and price. My panniers have been on many tours and still look new. They attach/detach quickly and are completely waterproof without needing accessory covers. Arkel, Vaude, Topeak, and others also make high quality bags.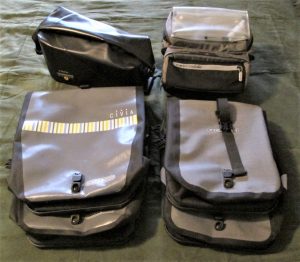 Storage options include:
Rear Panniers (essential – I use Ortlieb Back Roller Classics)
Front Panniers (optional – I use Ortlieb Front Roller Plus
Rack Trunk (optional – I use a Trek Interchange Waterproof Trunk which is no longer available – Ortlieb and Ibera make good options with a quick-release mounts. You may also want to use the rack top to strap down a tent or sleeping pad)
Handlebar Bag (optional, but very convenient – great place to store essentials – phone/camera/passport – so you can easily access them while riding and remove them with the bag when you leave the bike. Better models also provide waterproof map cases. I use an older Cannondale model.)
Bike Accessories

You'll need a few key accessories:
Water Bottles
Headlight & Tail Light (even if you don't plan to ride in the dark, it can happen unexpectedly)
Light chargers (if you are using rechargeable models)
Light batteries (if you are using AA/AAA models)
Helmet light mount (if that's your preference)
Lock (I carry a cable lock because I rarely leave the bike for long – a U-lock might be a better choice on some tours)
Mirror (seeing behind is invaluable on the road)
Pepper Spray (mostly for dogs, but who knows when it may be needed)

Bike Maintenance and Supplies
Modern bikes and components are remarkably durable, but it's still important to have some basic repair skills and carry some tools and parts.
Multi-tool (It should include hex keys and a chain tool – my Lezyne RAP-20 has been excellent)
Tubes (at least two – I discovered a bad one on my last trip)
Patch Kit (make sure the glue hasn't dried out and you know how to make a good patch)
Tire Levers
A Pump or CO2 Cartridges (I prefer a pump and use a BioLogic seatpost pump)
Chain Repair Link (make sure it's correct for your chain)
Chain Lube
Brake Cable (on longer tours)
Brake Pads (on longer tours)
Q-tips and Tooth Picks (for various tasks)
Duct Tape (I carry narrow Gorilla Tape)
Cable Ties (small and medium sizes)
Bungee Cords (small versions)
Rags
Latex Gloves (to keep your hands clean during repairs)
Spare SPD cleats (on longer tours, if you wear SPD shoes)
Spare screws (M5 and M6 are the most common on a bike)
Parts Container (I use a Lay's Stax chip container – it works perfectly)
General Supplies

There are some essential items to pack:
Mobile Phone
Device Chargers and Cords
Backup Battery
Maps
Passport
Driver's License
Cash
Credit Card
Emergency Phone Numbers (in case you lose your phone, or it dies)
Headlamp and Batteries
Sunglasses
Reading or Prescription Glasses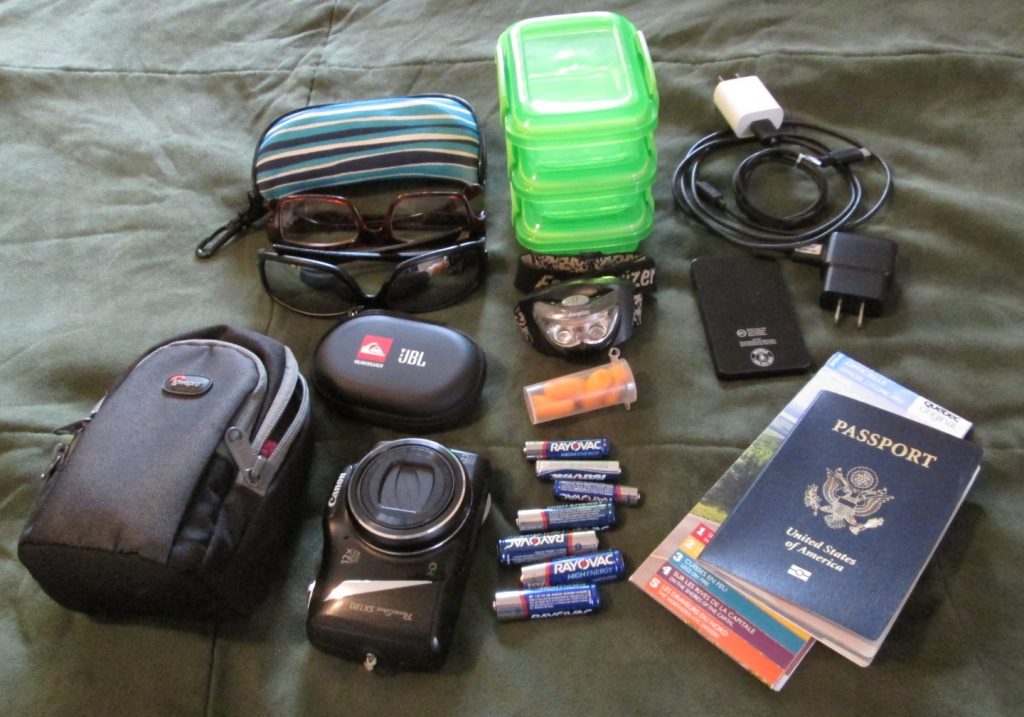 Other optional items are worth considering:
Digital Camera & Batteries (especially if you want a good zoom lens)
Earbuds
Travel Guides (I get guidebooks from the library and photocopy the relevant pages. It keeps the weight down and I can discard pages after I use them.)
Rubber bands
Zip Lock Bags (for dry storage of critical items)
Hygiene and First Aid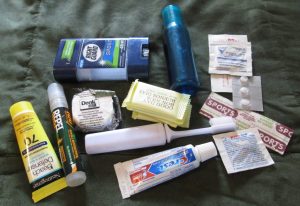 For the most part, these are the same items you would take on any car or plane trip:
Toothbrush and Tooth Paste
Soap and Shampoo
Deodorant
Pain Medicine
Allergy Medicine
Personal Prescription Medicines
Antiseptic Wipes
Bandages
Sunscreen
Insect Repellent
Ear Plugs (for noisy hotels and campsites)
Hearing Aid and Batteries (if you use them)
Laundry Soap
Camping Gear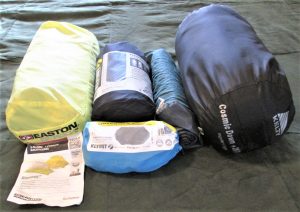 If you plan to camp, you'll need some sleeping and cooking gear. Backpacking models will keep the weight and size to a minimum.
Sleeping:
Tent (Mine is an Easton Rimrock 1-person model – it fits inside my Ortlieb panniers and requires only 3 stakes in typical conditions)
Ground Cloth
Sleeping Pad (the Klymit Static V Luxe has changed my camping experience – I actually sleep through the night)
Sleeping Bag (mine is a Kelty Cosmic Down)
Inflatable Pillow (also by Klymit – it's comfortable but packs small and light)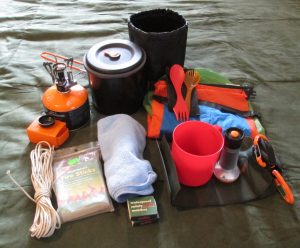 Cooking:
Stove & Fuel (forget about propane or alcohol – butane burns hot and the canisters are light and last a long time. I bought my tiny burner on eBay for less than $10. You can spend more for a JetBoil.)
Cook Set (mine is an Ozark Trail steel/enamel set with plastic bowls, similar to the GSI Dualist. The butane fuel cannister fits inside.)
Plastic Mug
Water Flasks
Utensils
Cutting Sheet & Knife
Cord/Rope for Hanging Food
Other Camping Gear:
Matches and/or Lighter
Fire Starter Sticks
Compression Storage Bags (mine are Outdoor Products)
Clothing
Cycling Clothes:
Helmet & Liner
Gloves
Cycling Shoes
Underwear (4+ pair)
Socks (4+ pair)
Jerseys (3+)
Fleece Pullover or Jacket
Padded Cycling Shorts
Cycling Pants (for Cooler Weather)
Rain Jacket
Street Clothes:
Convertible Pants (lightweight, with zip-off legs)
Street Shirt
Street Shoes or Sandals
Food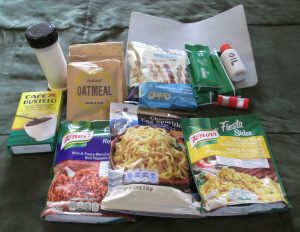 It's a good idea to pack at least a few meals worth of food. If your route is remote, more might make sense. Of course, that adds weight and you may need to worry about animals at night.
Coffee/Tea (Instant coffee is not as good as fresh brewed, but it sure is convenient. Starbucks Via is actually pretty decent.)
Creamer (again, powdered creamer is a convenient compromise. Small half-and-half vials are better.)
Cooking Oil (in a small vial)
Salt & Pepper (in small shakers)
Dried Foods (Rice, Noodles, etc.)
Snack Bars
Trail Mix
Oatmeal or Grits (for breakfast)
Sports Drink Mix
Packed Size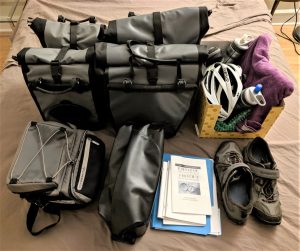 This list may seem like a lot of items, but it actually fit in the panniers and on the bike without any problem:
Unused items

On this trip, there were a few things I didn't use. They're shown in the photo below. It might be possible to eliminate them in the future. Of course…every trip is different. Just because I didn't use something this time doesn't mean it won't be critical on another tour.
Here is what I plan to eliminate next time:
Digital Camera (my smart phone camera is adequate)
Ear Buds
Spare Sunglasses
Bungee Cords
Helmet Light and Mount
Laundry Detergent (I did laundry in the hotel sink with soap)
Is there something I forgot? Please leave a comment…
Note: Round-N-Round.com is a participant in the Amazon Services LLC Associates Program, an affiliate advertising program designed to provide a means for sites to earn advertising fees by advertising and linking to Amazon.com.