Overnight Ride – Northwest Out of Philly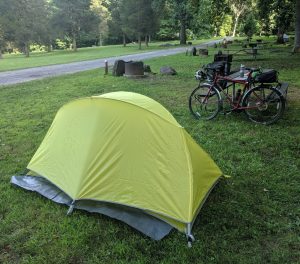 Sometimes it's nice to get out of the city for a night. Fortunately, if you live in Philly, there are lots of good options. If you want to do the whole thing on two wheels, with no cars, buses, or trains involved, a ride out to Green Lane Park in northwest Montgomery County is a great choice. The route is almost completely off road, following the (paved) Schuylkill River Trail to Oaks then meandering up the (gravel) Perkiomen Trail to the park, which is set around three lakes dammed on Perkiomen Creek.
If you've never done any bike camping and want to give it a shot, this is a perfect intro. It was my first loaded adventure, back in 2008, and I've repeated it whenever an opportunity has arisen.
Official Sites: Schuylkill River Trail, Perkiomen Trail, Green Lane Park
Difficulty: Easy-to-Moderate
Ride Type: Out-and-Back
Surface: Paved and Gravel
★★★★☆
The Good:
Mostly flat
Trails are separated from roads most of the way
Excellent pavement on Schuylkill River Trail
Mostly good gravel on Perkiomen Trail
Easy start from many locations in Philadelphia
Good signage – you're unlikely to get lost
Small towns with services along the entire route
Green Lane Park is beautiful and well-maintained
Possible shorter route using SEPTA Regional Rail
The Bad:
Schuylkill River Trail can get very busy during commuting and recreation hours
Gravel is rough, rutted, and loose in a few areas of Perkiomen Trail
Route Map
NOTE: Mileage shown in the map is for the whole trip – out and back.
You can jump onto the Schuylkill River Trail at lots of different intersections. It starts at Schulkill Banks Park where Spruce Street ends at the river. Simply head west from anywhere in Center City and you'll find the trail on the east bank at the riverside. The signs are good once you find the trail.
There is also trail access near the Philadelphia Art Museum and in the neighborhoods of East Falls and Manayunk.
If 42 miles pushing a fully loaded bike on a lot of gravel seems daunting (it's definitely a workout), keep in mind that there is a SEPTA regional rail line that can cut some miles off the journey (see below).
The Whole Trail (42 miles – Each Way, 84 Miles – Total):
If you ride from Center City, or one of the central neighborhoods, you'll have a really diverse and interesting ride. You'll see dense urban areas, icons like 30th Street Station and the Philadelphia Museum of Art, Kelly Drive through Fairmount Park, old neighborhoods (East Falls and Manayunk, including its beautiful canal trail), suburbs, Valley Forge National Park, and more rural small towns like Collegville and Schwenksville. I sometimes get a little jaded because parts of this ride are my regular everyday route, but it's really a great collection of trails. If you haven't ridden it, you should.
Public Transit Options:
Manayunk-to-Green lane Park (35 miles – Each Way, 70 Miles – Total)

Conshocken-to-Green lane Park (29 miles – Each Way, 58 Miles – Total)

Norristown-to-Green lane Park (25 miles – Each Way, 50 Miles – Total)
SEPTA regional rail runs along the Schuylkill River and several of the stations are very close to the trail. To shorten the ride, you can take your bike on any of the trains as long as it's not rush hour in the direction you're headed. All of the stations are on the Manayunk/Norristown Line running out of Center City and the stations are named after the towns where they stop.
Here is a link to the SEPTA Schedule .
General Considerations
Terrain and Conditions: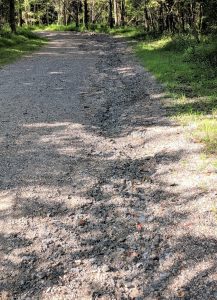 Almost the entire trail is off-road – no cars!
The first 25 miles is mostly-paved and the asphalt is in very good condition.
There is an on-road section entering Manayunk at the end of Kelly Drive. Follow the signs and ask a local if you're not sure which way to go. It only lasts about 2 miles, but traffic can be heavy and there is no bike lane. Be careful. You can re-enter an off-road trail once you hit the commercial part of Main Street. It parallels the trail. There is an easy entry point to the left between Green Lane (not the one with the park!) and Leverington Ave.
The section of off-road trail that starts in Manayunk is gravel and follows the Manayunk Canal. The gravel is in very good condition.
The last 15-20 miles is mostly gravel. It's generally in good condition, though you are likely to encounter some sections that are coarse, loose, or rutted, especially if there have been recent storms. (See photo.)
In general, the trail is flat. There is one climb just north of Schwenksville. It's short, but the grade reaches 12%. Get off and push if you need to.
Food and water are readily available at stores and restaurants along the trail. There are several parks where you can fill your water bottles, including Betzwood Park at Valley Forge and Central Perkiomen Valley Park in Schwenksville.
Cell signals are good the whole way, including at the park.
Camping Details:
Green Lane Park has 30 camp sites ($20/night for Montgomery County residents, $30 for others). It can get busy on weekends, so it's always best to contact them ahead of time (215-234-4528 or greenlanepark@montcopa.org) for a reservation. That said, every time I've gone, there's been a site available. It's a civilized park, with running water and showers. Learn more at the park camping web page.
Bike Selection and Gear:
This route includes a lot of gravel paths. They are in good condition, but you will probably encounter some rough spots. A carbon road bike with 23mm tires is not the best choice, especially since that wouldn't be a very good rig for carrying camping gear. On my latest venture up this trail, I rode my Salsa Vaya touring bike with fenders, racks and 38mm tires. It was perfect, fast enough on the pavement, but stable on even the roughest of the gravel patches.
Some means of carrying supplies is essential if you're going to camp. Any decent rear rack and a set of panniers should do the job. I have a nice array of backpacking gear, so I can fit everything into two Ortlieb rear panniers for a short trip like this. If your camping gear is bigger, maybe you can split the essentials among a few traveling companions.
Kelly Drive:
A five mile stretch of the trail runs from the outskirts of Center City to Manayunk through Fairmount Park, winding along the river next to Kelly drive. It starts at the Art Museum, where you can run up the steps like Rocky and enjoy the amazing view of Center City from the top. Behind the museum sits the Fairmount Water Works, a fascinating free museum that explains the history and inner workings of this beautiful structure and engineering marvel that was built in 1812 and served as the pumping station for the city for nearly a century.
Just north of the museum, the trails runs past the iconic boathouse row, a collection of historic structures housing a variety of rowing and social clubs, along with their competitive craft.

The Kelly Drive trail is heavily used by walkers, joggers, cylists, and skaters. It's also frequently filled with rowers during weekend regattas in the summer. Take it slowly, enjoy the scenery, and be courteous to the pedestrians. If it looks too crowded, you can bypass around on the other side of the river using the trail on West River Drive. However, the condition is significantly worse, with frequent "speed bumps" created by tree roots under the asphalt. On summer weekends, this stretch is closed to cars and you can ride on the much smoother pavement on the road.
Traveling northwest away from Center City, you'll pass under a variety of interesting bridges as you travel through Fairmount Park before reaching the East Falls neighborhood. If you're hungry already, The Trolley Car Cafe, right next to the trail under the US-1 bridge, has a friendly staff and serves a great breakfast and lunch.
Manayunk: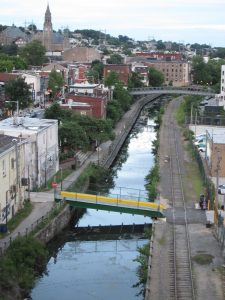 The off-road trail ends for a while between the neighborhoods of East Falls and Manayunk. You have to travel north for 1-2 miles on Main Street in Manayunk. The downside is the traffic. There's no bike lane and the traffic can feel like it's out to get you. Perhaps it is. The locals have to dodge bikes and oncoming traffic every day to get home. Impatience and irritation are somewhat understandable. The upside is that Main Street is one of the nicer corridors in Philly, full of interesting shops and restaurants. One of my favorite stops is Volo Coffee House at 4360 Main Street, for excellent pastries, sandwiches, and espresso. There are also two good bike shops on the route, Cadence and Trek Bikes, just in case you need parts or service.
Going through the center of Manayunk, you can either ride on Main Street or the canal trail just behind the buildings on the southwest side Main Street. Both are nice.
Once you get past Green Lane, shift from Main Street onto the Canal Trail. In the spring and early summer, watch out for mother geese and their goslings. I had a regrettable incident here a few years ago. You don't want to carry around the same guilt and horrible images I do.
About 1 mile up, you'll see the ruins of the old canal lock house, as well as a big dam on the river. It's worth getting off the bike to explore and admire the graffiti. In another half mile, the trail rises up to the old Ivy Ridge train station, which is no longer in use. SEPTA is looking for a tenant. Anybody want to open a water ice stand? I'll stop for a scoop at least twice a week in the summer.
Conshohocken and Norristown:
Right past the Ivy Ridge station, the trail turns into nice smooth pavement that continues all the way through Conshohocken, Norristown, and Valley Forge to Oaks. This is the stretch where you're most likely to be passed by spandex-clad weekend "racers" on $5000 carbon bikes. They won't give you any warning, of course, as they zip (a little too close) between you and some local joggers.
The scenery is nice here, except for the two wastewater treatment plants. (That can be one of the prices of riding on the flat land next to a river.) But there are no exceptional sights. If you like candy (who doesn't), consider a stop for snacks at the Edwards Freeman Nut Company in Conshohocken. It's just a few blocks from the trail and feels like a holdout from a bygone era. The place is jammed with shelves full of every sweet treat you can remember from your childhood.
Valley Forge/Betzwood Park: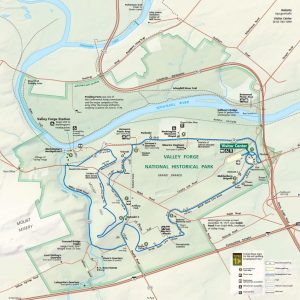 Around the midway point, the trail passes under US-422 and enters the Betzwood Picnic Area, part of the Valley Forge National Historical Park. There are nice restrooms and fountains to refill water bottles. In 2016, a new pedestrian bridge was completed, providing a safe, scenic connection between Betzwood and the main part of the park, where George Washington camped with the Continental Army during the brutal winter of 1777-1778. A trek across the river would be time well spent.
For those with knobby tires, Betzwood also has a single-track trail on the western end along the river.
Perkiomen Trail:
Heading north out of Valley Forge, the trail parallels US-422, then drops down to where Perkiomen Creek empties into the Schuylkill River. Pay close attention at this intersection. It's time to leave the Schuylkill River Trail which heads north/west towards Phoenixville. Instead, head north on the Perkiomen Trail, which runs along the west bank of the creek through Lower Perkiomen Valley Park and up towards Collegeville. Sunlight trickles through the canopy of trees that shelters the gravel path as the trail traffic and car noise subside.
Collegeville and Schwenksville both offer an array of services. Perkiomen Bicycles is your last chance for parts and repair. Landis Supermarket, on PA-29 just south of Ott Road, is the best bet to pick up something to cook by the campfire later.
The final run passes by the Cedar Road Trail Head, where you'll encounter the biggest ascent and descent of the ride. The rest of the trail is a pleasant flat pedal into Perkiomenville.
Green Lane Park:
The last few turns into the park are a bit confusing, jumping back and forth between trails and roads. Watch for the signs and ask a local if you're not sure where to go.
The 3400-acre park offers 25 miles of trails around three lakes, fishing, boat rentals, summer concerts at an outdoor pavillion, and educational events. (Get more details at the official park website.) A sunset stroll around Deep Creek Lake and Knight Lake is a real treat after the ride is done and the tents are set up.
The campground is at the southeast corner of the park, near the ranger station and Deep Creek Lake. All of the sites are pleasant and there are multiple restrooms with running water. One has a full shower setup. Be prepared for some faint traffic noise at night, since the park is on the outskirts of Perkiomenville and borders PA-29. Bring some earplugs if that concerns you. But don't let it deter you. This is a great overnight ride.