Off-Road exploration of the Laurentides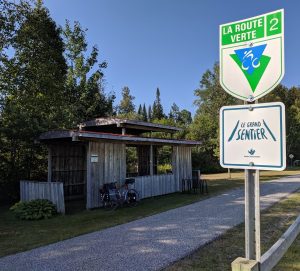 "P'tit Train du Nord" means "little train of the north" in English. When it was constructed around 1900, this rail line was key to the development of industry and tourism in the Laurentian Mountains ("Laurentides" in French). The trains stopped running and the rail bed was abandoned in the 1980's, but now it's been converted to an off-road trail that transports cyclists from the outskirts of Montreal about 200km (124 miles) northwest to Mont-Laurier.
The trail runs along a collection of rivers and lakes that keep the grades moderate and the scenery pleasant. More than half of the trail is paved, including the entire northern half and about 8 miles around Mont-Tremblant. The southern section is gravel.
This is one of the most popular trails in Quebec, with gentle (but steady) climbs and lots of nice towns along the way.
It is also designated as part of Le Route Vert 2 and Le Grand Sentier.
Official Sites: P'tit Train du Nord, Laurentides.com
Difficulty: Easy-to-Moderate
Ride Type: One-Way or Out-and-Back
Surface: Paved and Gravel
★★★★☆